Hach Intellical PHC705 Laboratory High Alkalinity Range pH Electrode
Intellical PHC705A is a digital combination pH electrode with built-in temperature sensor.
Stock
Drop Ships From

Manufacturer
Fondriest Exclusives
Free ground shipping
Expedited repair and warranty service
Lifetime technical support
Intellical PHC705A is a digital combination pH electrode with built-in temperature sensor. The PHC705A is a pH refillable electrode with ceramic porous pin reference junction embedding the RedRod technology to deliver exceptionally fast, stable, and accurate response times for accurate measurements within a wide temperature range. Thanks to its special pH glass bulb composition this high performance laboratory glass pH electrode is particularly suited for measuring pH in alkaline aqueous samples for pH above 12.
A 59-mL bottle of saturated KCl Electrode Filling Solution is included with the probe. The PHC705 is not suitable for use with organic solvents, emulsions or sample types with high solids content.
Accuracy: ±0.01 pH
Application: High Performance/High Alkalinity
Cable Length: 1 m (3.28 ft)
Electrode Type: RedRod / Refillable Reference Element
Filling Solution: Saturated KCl (#25118026)
Junction: Porous Pin Junction
Kit?: No
Length: 200 mm (7.87 in.)
Method Type: Laboratory: RedRod / Refillable Reference Element
Parameter: pH
Probe Type: Standard
Product Kit: Model: PHC705A
Accessories Included: None
Range: 0 - 14 pH
Reference Type: Red Rod
Resolution: 0.001/0.01/0.1
Sample depth: 18 mm (0.71 in.)
Sensor material: Glass
Sensor Type: pH Glass
Sodium (Alkalinity) error: <0.3 pH at pH 14 in 1 M NaOH
Special Features: High-alkalinity samples
Temperature Accuracy: ±0.3 °C (±0.54 °F)
Temperature Range: 0 - 100 °C (32 - 212 °F)
Temperature Resolution: 0.1 °C (0.18 °F)
Test requirements  Parameter Needed: pH
Minimum Sample Depth (mm): 18
Thermistor: ATC
Warranty: 12 months
Weight: 0.1 kg
What's included?: IntelliCAL PHC705A Laboratory pH electrode with storage soaker bottle, 1 m cable, 59-mL bottle reference electrolyte filling solution (Saturated KCl solution), Test certificate, and Basic User Manual.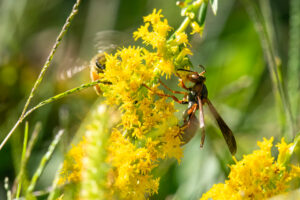 Pollinators of all shapes and sizes are vital to ecosystems around the world. From the wide array of food people eat to the diversity of life around the planet, life would be very different without them. Pollinators are organisms that help carry pollen from one plant to another, and over 350,000 species can be found worldwide, according to The California Department of Fish and Wildlife . With the strong relationship between plants and pollinators, losing either would have detrimental impacts on ecosystems. 
 
 Over millions of years, both plants and pollinators have evolved alongside each other and formed unique adaptations that allow them to work together, expediting and enhancing the process of pollination.
Read More