Hach sensION+ PH31 GLP pH Benchtop Meter
The Hach sensION+ PH31 GLP benchtop pH meter has a wide range of features to ensure the most accurate measurements possible.
Features
Automatically recognizes 15 technical buffers
Iso-potential point adjustment and temperature readjustment
Includes a workstation with a built-in stirrer and probe holder
Stock
Drop Ships From

Manufacturer
Fondriest Exclusives
Free ground shipping
Expedited repair and warranty service
Lifetime technical support
Overview
The Hach sensION+ PH31 GLP benchtop pH meter measures pH from -2 to 16, ORP from -2000 to 2000 mV, and temperature from -20 to 150C. The Hach sensION+ PH31 data logs up to 400 measurements. With a PC/printer output, transferring data is a breeze.

Includes
All kits come complete with a meter, probe, carrying case and all required accessories, making it simple to grab the kit and begin testing immediately.

Guided Navigation
A guided navigation menu allows a simple setup for measurements—reducing the time necessary to start testing and improving the accuracy of measurements.

Parameter: pH, mV, ORP/Redox, Temperature
pH Input Accuracy: 0.002
Internal data storage: 400 results 330
Interface languages: 6
Inputs: BNC, ref, Pt1000
Outputs: RS232 (two-way)
IP Rating: IP42
Compliance: CE.WEEE
Dimensions: 110 mm x 350 mm x 200 mm
Dimensions (English Units): 7.9 in x 13.8 in x 4.3 in
Warranty: 3 years
Workstation with built-in stirrer and control
Probe holder
PH31 meter
Buffer solution pack
Electrolyte solution
Calibration beakers
Power supply
Questions & Answers
Can I assign sample IDs?
Yes. Sample IDs can be input manually or the sensION+ pH31 GLP benchtop meter can automatically assign consecutive numbers to every sample. Manual input will require a keyboard or barcode scanner.
Can I change the stirring speed?
Yes. When the stirrer is turned on, you can use the up or down arrows to change the stirring speed.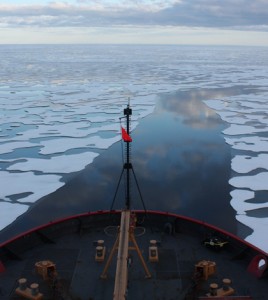 The Arctic has become the target of some ironic attention lately. While part of the international community eyes the region as a climate change indicator, many other entities have set their gaze on the oil and gas reserves that could fuel such change. Now a collaboration between federal and private sector organizations, as well as U.S. and Canadian scientists, seeks to uncover the workings of the Arctic Beaufort Sea ecosystem so that its potential for human use is understood alongside the requirements for its protection. 
 
Being the federal agency responsible for offshore energy development, the Bureau of Ocean Energy Management is leading the Marine Arctic Ecosystem Study with help from the other nine members of the National Oceanographic Partnership Program.
Read More