Heron dipperLog tapNtell Surface Mount Display
The Heron tapNTell display connects directly to a dipperLog cable for real-time information on the status of the water level.
Features
Display is permanently attached to the well
User-replaceable batteries do not drain the loggers of power and last up to 5 years
Continuous record of water level rise and fall
Stock
Drop Ships From

Manufacturer
Fondriest Exclusives
Free ground shipping
Expedited repair and warranty service
Lifetime technical support
Heron's tapNtell display is best suited to monitor water levels during earth works construction, mining operations, irrigation wells, pore water pressure monitoring in piezometers, or just to keep a watchful eye on a domestic well. The tapNtell provides real-time temperature and water level data, accounting for the rise and fall of the water as it happens below. This data is conveniently presented in numerical value on the display.

Housed in a NEMA IP68 casing, the tapNtell is permanently secured at the top of a well that hosts a direct-read cable installation. This is available for all dipperLog water level loggers that are deployed with a reel or in a well head readout option.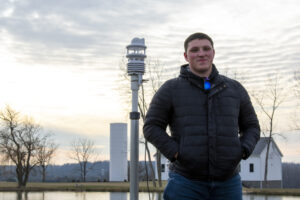 The Lufft WS800 Multi-Parameter Weather Station measures a full suite of atmospheric parameters that provides all-encompassing data on the local environment, including a one-of-a-kind lightning detector. This compact, cost-effective sensor simultaneously measures air temperature, humidity, pressure, precipitation, solar radiation, lightning, and wind with an integrated electronic compass. An internal fan and heater reduce the effects of external influences for accurate measurements during long-term deployments. The sensor can be easily mounted on a 2-inch diameter pipe above any local obstructions with the included bracket mount, U-bolts, and 10-meter cable. 
 
 Settings for the unit can be adjusted using the latest UMB-ConfigTool.
Read More