Heron water tape Water Level Meters
The low cost and durability of the water tape make it an ideal choice for measuring both static and drawdown levels in wells, boreholes, standpipes, and open bodies of water.
Features
Corrosion-resistant stainless steel fittings
Water and dust proof encapsulated electronics
Easily changeable 9V battery
Stock
Drop Ships From

Manufacturer
Fondriest Exclusives
Free ground shipping
Expedited repair and warranty service
Lifetime technical support
The Heron water tape, an economical water level meter, can now be used for measuring both static and drawdown levels in open bodies of water, wells, boreholes and standpipes. This low cost unit with dual function capability is ideal for every project and budget.

The water tape, manufactured with the white polyethylene tape reinforced with Kevlar, is available in both metric and engineering scale. Unlike some other white tape units, the water tape comes with a fully pressure rated probe and carry bag.
Polyethylene Tape w/ Heat Stamped Markings
5/8" (16mm) Water Level Probe (IP68) w/ holder
Electronic Panel with audio and visual signals (Fully Encapsulated to IP65)
Sensitivity dial to tune out cascading water
Vinyl, ergonomic holding grip
9V Battery
Backpack Carrying Case w/ adjustable straps, laptop & notepad pouches
Questions & Answers
Does the backpack come with the purchase of the meter?
Yes, the backpack is included with the purchase of all Heron water level meters, oil/water interface meters, temp/conductivity meters, and tag lines. Please refer to the Contents tab for a full list of what's included.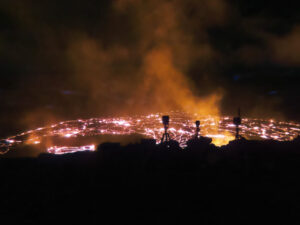 The eight main Hawaiian Islands are made up of 15 volcanoes, six of which are active as of 2023 . Many locals live on or near an active volcano, making the monitoring and understanding of volcanic activity a core issue of public safety on the islands. Organizations like the Hawaiian Volcano Observatory (HVO) have spent decades monitoring the islands' volcanoes to protect the public, develop a deeper understanding of the islands' volcanos and forecast eruptions whenever possible. 
 
Even those who live away from edifices like Mauna Loa often have connections to the people living near the volcano.
Read More