Solinst Model 101 P2 Probe Water Level Meters
The Solinst Model 101 P2 Probe Water Level Meter features the P2 probe that is stainless steel with a neoprene strain relief.
Features
Sensitivity adjustable to conductivity
Permanent, heat impregnated markings
Rugged, corrosion proof components
Fondriest Exclusives
Free ground shipping
Expedited repair and warranty service
Lifetime technical support
Overview
The Solinst Model 101 P2 Probe Water Level Meter is designed for measuring the depth of water in wells, boreholes, and standpipes, the Solinst Model 101 P2 Probe Water Level Meter is the most accurate and reliable meter. It is sturdy, easy-to-repair and read to 1/100 ft. or to each millimeter.
Mechanics
The Model 101 Water Level Meter uses a choice of probe designs, attached to a permanently marked polyethylene well tape, fitted on a well-balanced reel. It is powered by a standard 9 volt battery housed in an easy-access battery drawer. The conductors embedded within the well tape each have seven strands of stainless steel for strength and flexibility. The probe incorporates an insulating gap between electrodes. When contact is made with water, the circuit is completed, activating a loud buzzer and a light. The water level is then determined by taking a reading directly from the tape at the top of the well casing or borehole.
Design
The high quality polyethylene well tape reels smoothly, remains flexible and hangs straight in the well, irrespective of temperature. Permanent markings at each millimeter or 1/100 ft. allow accurate readings, traceable to national standards. Stranded stainless steel conductors resist corrosion, provide strength and are non-stretch. They make the tape very easy to repair and splice. The dog-bone design reduces adherence to wet surfaces. Markings are permanently impregnated onto one side of the well tape in your choice of scale.
Standard reels are ergonomically designed for good balance and ease of use, with a stand-alone design, convenient carrying handle and an excellent brake. They are robust and smooth running. The battery is housed in a convenient battery drawer and each reel has a probe holder and brake. The reels are equipped with an on/off sensitivity switch, light, buzzer, and a battery test button.
(1) Solinst Model 101 P2 Probe Water level meter
(1) Tape guide/datum
Questions & Answers
What is the difference between the P7 and P2 models?
The Model 101 P7 water level meter features a 4.5 oz, pressure-proof probe rated to 500 psi and laser marked PVDF tape. The probe is submersible up to 1000 ft with almost zero displacement. The Model 101 P2 water level meter features a 7 oz, shielded, stainless-steel probe and heat embossed polyethylene tape.
Does the 300 ft water level meter require the medium case or a small case?
The 300 ft Model 101 P2 water level meter will fit inside the small carrying case.
What is the IP rating for Model 101 WLM reels?
Reel IP rating: IP64 (dust and splash proof).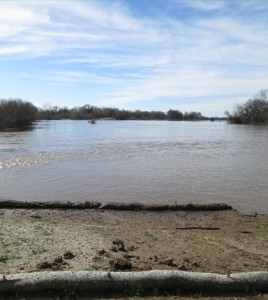 Groundwater typically makes up more than 30 percent of California's annual water usage, according to the state's Department of Water Resources. But during times like the current prolonged drought, groundwater becomes more important, meeting 46 percent of the state's annual needs. 
 
With the rising dependence on groundwater in dry times, scientists have begun looking for ways to fill up depleted aquifers and keep flush those still filled with water. The goals have led to new approaches, like one coming out of a research project led by scientists at the Universities of California, Davis and Merced, that looked at structures somewhat overlooked in times of low water levels: flood levees. 
 
The study took place along the Cosumnes River, the last major undammed river in California.
Read More