Juniper Mesa Rugged Attachable Keyboard
The Mesa 2 Rugged Attachable Keyboard features 54 buttons, offering a full QWERTY keyboard with navigation arrows, a numeric keypad, and 98 possible inputs.
Features
Backlit and powered by the Mesa 2 all-day battery
Easily attaches and removes without tools.
IP68 rating - dustproof and waterproof
Fondriest Exclusives
Free ground shipping
Expedited repair and warranty service
Lifetime technical support
The Mesa 2 Rugged Tablet Attachable Keyboard boasts a sleek, lightweight design for comfortable all-day use. Users can be completely set up in minutes because of its simple snap-on design and compatibility with a RAM articulating arm, shoulder harness, and other device-carrying accessories.

The Mesa 2 Rugged Tablet Attachable Keyboard features a full backlit QWERTY keyboard and enlarged numeric buttons for optimized data entry. Like all Juniper Systems products, the keyboard features an IP68 rating – making it entirely dustproof, shockproof, and waterproof.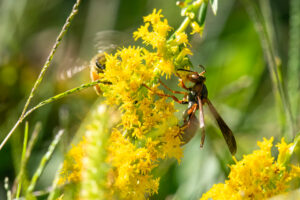 Pollinators of all shapes and sizes are vital to ecosystems around the world. From the wide array of food people eat to the diversity of life around the planet, life would be very different without them. Pollinators are organisms that help carry pollen from one plant to another, and over 350,000 species can be found worldwide, according to The California Department of Fish and Wildlife . With the strong relationship between plants and pollinators, losing either would have detrimental impacts on ecosystems. 
 
 Over millions of years, both plants and pollinators have evolved alongside each other and formed unique adaptations that allow them to work together, expediting and enhancing the process of pollination.
Read More