Eno Scientific Well Sounder: The power of sound echoes water level measurements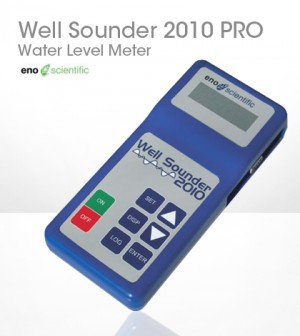 Eno Scientific Well Sounder water level meter
Measuring the distance to the water's surface in a well can be difficult, especially when the well is deep and full of obstacles that can block and entangle mechanical measuring tools.
But the Eno Scientific Well Sounder 2010 Pro gets around those obstacles with the power of sound, eliminating the need for any mechanical measuring. The device sends low-frequency sound waves down a well until they hit liquid.
"The sound can go around all the wiring and pipes and stabilizers within the well and give a measurement within a second," said Rachel Bean, Eno Scientific sales manager.
The Well Sounder's probe emits broadcasts low-frequency sound waves from the top of a well. The waves return in about one second per 500 feet. The Well Sounder's handheld display shows water level on its LCD screen.
Well Sounders are advertised to read to a maximum depth of 2,000 feet. Bean said Eno Scientific can adjust depth range based on customer needs. She said one customer has a Well Sounder reading down to 7,000 feet.
Temperature and water level data can be logged internally to maintain water level records for wells. The Well Sounder can save up to 25 million time- and date-stamped data points with its extended flash memory.
The Well Sounder can also be hooked to an Eno Scientific flow meter to simultaneously log well flow and water levels. Bean said this setup is optimal for monitoring well drawdown.  "It just plugs right in so the Well Sounder will display the total flow and the instant flow rate at that time," Bean said. "And it will log that flow."
Eno Scientific engineers had to deal with a few difficulties when designing a sound wave based measurement system.  For example, Methane can cause the well sounder to read incorrectly. "Sound travels faster through methane than it does through normal air," Bean said.
Users can account for methane in their boreholes by entering the measured concentration into the Well Sounder. Then the meter will compensate readings for methane.
Sound also travels faster as the air gets warmer. The sounder is temperature-compensated to deal with varying temperatures from well to surface. It has a temperature sensor that takes readings at the surface of the well. The downhole well temperature can also be programmed into the sounder. Both will be factored into the meter's depth calculations.
The final issue with measuring with sound waves is that they bounce off anything. Bean said the Well Sounder evaluates each returning signal before reading. "Sound waves can bounce off almost anything but that doesn't necessarily cause a false reading," she said. "The Well Sounder is programmed to evaluate the returns it gets from the sound waves it sent out and only accept the strongest reading. If it is not confident that the reading it is getting is correct then it displays 'depth searching' to the user until it has reached a static level that it has confidence in."
Bean said one method to obtain quicker water depth readings is to limit readings to a depth range closer to estimated water levels. So, if water is typically 200 feet into a well, one can set upper and lower limits from 150 feet to 250 feet.
A sounding tube is recommended to get the cleanest signal possible. Any tube with a diameter between a half inch and 2 inches will work. Sounding tubes can also be used adapt the Well Sounder to measure water levels in creeks, rivers, wetlands and other locations.
The Well Sounder can also be used for long term water level monitoring. It can connect to logging and telemetry systems with RS232, RS485, USB and analog connections.
Eno Scientific's Well Sounder retails for around $935.