Lufft WS-Series Weather Stations: A history of weather monitoring translates to high quality weather sensing options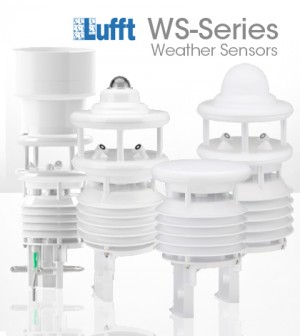 Lufft WS-Series Weather Stations
Gotthilf Lufft started building mechanical weather sensors in 1881.
"They really began by measuring temperature and humidity in the most basic sense," said Ann Pattison, Lufft USA product manager.
More than 130 years later, the company is still building weather monitoring technology.
For their most recent rendition of weather stations, Lufft engineers traded mechanical dials and horse hair for ultrasonic transducers and pyrometers to create a line of electronic all-in-one weather stations called the WS-Series.
The systems have a modular formula that can be tailored to customer's applications. In fact, many of the ready-made combinations Lufft offers, like a weather station with built-in tipping bucket rain gauge, were inspired by customers.
"We're small enough that we are able to take in customer inputs," said Pattison.
WS-Series weather stations are designed to be fixed to a pole, rooftop or buoy to monitor weather conditions autonomously with the help of an accompanying data logger.
Pattison said Lufft engineers listened to customers deploying the stations who said they needed the lowest power consumption possible. "The flexibility in communication and in the power consumption are a few things in which we pride ourselves," she said.
Each weather station can communicate with a data logger through a wide variety of communications protocols, including SDI-12, RS-485 and ASCII.
Most of Lufft's weather stations have a wind-sensing top that uses ultrasonic sensors to measure wind speed and direction. The company offers a wide array of additional sensors including air temperature, air pressure, precipitation, humidity and sunlight sensors.
Lufft engineers designed WS-Series sensor packages based on common user applications.
The WS501 measures wind speed, direction, air pressure, humidity, air temperature and solar radiation.  The WS503 measures the same parameters but has an adjustable pyrometer to measure solar radiation at an angle.
Pattison said the pyrometers were added as an option so users can monitor sunlight to maximize the efficiency of solar panels. "Solar projects need environmental monitoring to gather data of how sunny it is, so they can gauge the performance of their solar panels," she said.
A Lufft WT1 surface temperature sensor can be added in line with any WS-Series weather station to monitor heat on solar panels and further gauge performance.
Another feature of all the WS-Series wind sensors is a built-in compass. Pattison said the compass helps the ultrasonic wind sensor automatically orient during wind measurements. It can be especially helpful in determining wind direction on monitoring buoys.
Both mechanical and electrical precipitation measurements are available in WS-Series weather stations. The WS401 and WS601 incorporate a tipping bucket rain gauge. It enables precise mechanical measurement of precipitation, while still being electronically integrated into a compact weather station. "It's nice because it's all integrated in that package with a digital interface," Pattison said.
Lufft also offers weather stations that measure precipitation with radar. Their WS600 and WS400 stations both electrically measure precipitation type, quantity and intensity.
Each weather station is tested and calibrated prior to leaving Lufft's factory. Wind sensors are tested and calibrated a wind tunnel.  Workers also test and calibrate thermometers, humidity sensors and barometers.
Lufft offers a wide variety of WS-Series weather stations from sensor loaded to bare bones, providing options for monitoring projects of all kinds.