Ponsel Digisens smart water quality sensors designed with connectivity in mind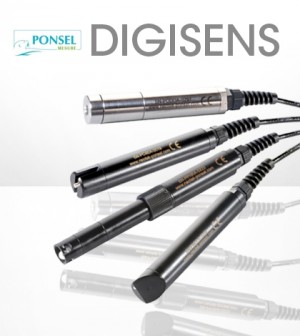 Ponsel launched in 1948 in Versailles as a compilation of engineers working with researchers from France's first government agriculture and water quality agencies.
Since then, the manufacturer has built water quality instruments. "Ponsel has the culture to develop robust instruments, to provide open communications protocols and to be specialized in optical measurement," said Xavier Broise, export business development manager for Aqualabo Group, which now owns Ponsel.
Ponsel's latest offering are the Digisens smart sensors that give users the capability to connect to a data logger or handheld interface and gather readings.
The sensors are designed to ensure quality data and compatibility for simple integration into monitoring systems. They can also be used for discrete measurements in the field, with Ponsel's ODEON handheld meter.
Sensors offered include a combination pH-oxidation-reduction potential probe, optical turbidity probe, optical dissolved oxygen probe and a combined temperature-conductivity probe.  Each probe can be used individually or as part of a sensor package.
Broise said Ponsel engineers created the smart sensor platforms out of necessity for the most compatibility possible. "We wanted to offer the possibility to use several sensors with one platform," he said. "To do this, we had a technical issue: put all configurations for all parameters in the ODEON, or develop smart sensors with all intelligence directly in the probe."
They decided to make the sensors smart. Each sensor has built-in memory to save calibrations and settings.  Each also has a temperature sensor that enables temperature compensation without the need for an additional probe.
The sensors also communicate with data loggers via two different common communications protocols: SDI-12 and RS485.
Engineers at Ponsel were also conscious of monitoring stations' vital and limited power supplies. Broise said the sensors had to have enough memory space to store readings, but they also were designed to consume as little power as possible.
Each sensor comes with its own cable assembly, available at any length up to 100 meters.  Ponsel offers couplers, splitters and brackets to install sensors neatly on the ODEON handheld meter.
One unique feature of the ODEON is the capability to discretely sample turbidity without the need for a colorimeter or data sonde.  This feature may be handy to researchers looking to obtain turbidity readings at different depths discretely.
For those who need to discretely sample and examine waterborne particulates, Ponsel's new Photopod combines the ODEON with a colorimeter.
The Digisens sensors lack a wiping system to keep them free from fouling during long-term deployments.  Ponsel engineers decided against a wiper system to limit power consumption.  Broise said Ponsel customers have developed their own wiping systems for the sensors.
"For Ponsel, our core business is to be a manufacturer of sensors, and our strategy is to provide open communication protocols, he said. "We are always happy to see all accessories developed by the customers around our sensors."