Rest assured, government agencies to monitor end of world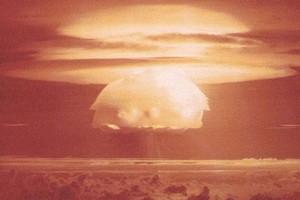 The U.S. Geological Survey is reassuring those fearing the doom supposedly predicted by the Mayan Civilization on Dec. 21, 2012, that if something goes wrong, a government agency will be there to monitor it.
The USGS monitors hurricane-induced storm surge and flooding in lakes and rivers across the country.  The National Oceanic and Atmospheric Administration tracks hurricanes and tropical storms.
The USGS has an early warning system for volcanoes, and the agency is working to establish a reliable warning system for landslides, with the help of the National Weather Service.
According to the article, the USGS won't be predicting earthquakes on anything other than probability.
Image: Nuclear weapon test Bravo on Bikini Atoll (Credit: U.S. Department of Energy, via Wikimedia Commons)