Trimble Yuma 2 arrives amid 'Tablet Revolution'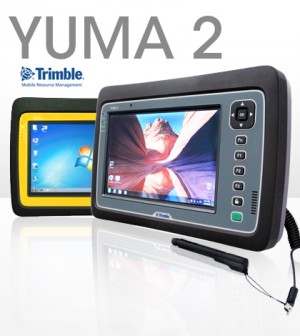 Trimble Yuma 2
When the Trimble Yuma computer first came out four years ago, few people had ever tapped on the screen of a tablet.  Laptops still reigned as king of mobile computing and smart phones started getting smarter and bigger.
Since then, there's been a "tablet revolution" said Victoria Gagnon, Trimble's business development manager.
"It allows more people to be more comfortable with a computer versus a notepad or journal," Gagnon said.
Now more than ever, she said, customers' tech savvy can influence developments in software and operating systems. The Yuma is no exception. When Trimble began to plan the Yuma 2, they started by listening. Customers wanted upgrades and engineers knew they had to deliver.
Designed for rugged outdoor use, the Yuma could handle the drops and splashes, but sunlight makes the old version difficult to read. This time around it had to be different. Trimble teamed up with computer display company Pixel Qi to develop a screen for the Yuma 2 that automatically compensates for sunlight, making it readable in any condition, Gagnon said.
Instead of packing pixels into the screen, Pixel Qi spreads them out with "small-aperture pixels."  A special lens focuses light through apertures onto the pixels, according to the Pixel Qi website. The result is a screen that consumes less power and actively adapts to differing light conditions.  High-strength glass over the screen protects against daily abuse.
In another screen upgrade, the Yuma 2 doesn't require a stylus. Less than two percent of Yumas were returned for warranty repairs, but those that were often had screen damage resulting from creative stylus substitutions.
"If (customers) were going to damage it, it was from a hard pointy object on the screen," Gagnon said.
This being the tablet revolution, the tablet became thinner, sleeker and faster. The Yuma 2 comes standard with four gigabytes of RAM, four times its predecessor. It also has a 1.6 gigahertz dual core processor and a 64 gigabyte solid state hard drive running Microsoft Windows 7. A 128 gigabyte model is also available.
Other improvements include eight hours of battery life, which is upgradeable to 16 hours;  the Trusted Platform Module Chip, which offers security through encryption and tracking capabilities; and better GPS accuracy. USB ports are standard.
A cellular data connectivity option gives Internet access anywhere there's with cell service.
The Yuma 2's signature toughness will also be invaluable to many outdoor professionals' soggy work conditions.  The IP65 rated tablet withstands dust penetration and low pressure exposure to liquids. Several military spec tests of the Yuma 2 in varying temperature conditions proved the strength of its seals. Gagnon said this will make the Yuma 2 resistant to humidity that can degrade electronics over time.
About Austen Verrilli