The NexSens CB-450 Data Buoy is designed for deployment in lakes, rivers, coastal waters, harbors, estuaries and other freshwater or marine environments.
Features
Integrated 15-watt solar panels for 45-watts of solar charging
Three 4" diameter sensor holes with female NPT threads for sensor deployment
Topside plate supports solar marine light, weather stations, and other sensors
Fondriest Exclusives
Expedited repair and warranty service
Lifetime technical support
The NexSens CB-450 Data Buoy is designed for deployment in lakes, rivers, coastal waters, harbors, estuaries and other freshwater or marine environments. The floating platform supports both topside and subsurface environmental monitoring sensors including weather stations, wave sensors, thermistor strings, multi-parameter sondes, Doppler current profilers and other monitoring instruments.

The buoy is constructed of an inner core of cross-linked polyethylene foam with a tough polyurea skin. A topside 20" tall stainless steel tower includes three 15-watt 12VDC semi-flexible solar panels, and a center 10" ID x 19.5" tall instrument well accommodates batteries, data loggers, sensors, and more. Three 4" pass-through holes with female NPT bottom threads allow for quick connection of instrument deployment pipes and custom sensor mounts. The stainless steel frame supports both single point and multi-point moorings.

The CB-450 Data Buoy is optimized for use with NexSens X2-CB data loggers. Wireless telemetry options include cellular, Iridium satellite, and spread spectrum radio. Compatible digital sensor interfaces include RS-232, RS-485 and SDI-12. Each sensor port offers a UW receptacle connector with double O-ring seal for a reliable waterproof connection. For custom integrations, an optional pass through data well lid includes a set of plugs and cable gland fittings.
Hull Outer Diameter: 34.0" (86.4cm)
Hull Height: 20.0" (50.8cm)
Data Well Inner Diameter: 10.3" (26.2cm)
Data Well Height: 19.5" (49.5cm)
Pass-Through Hole Diameter: 4.0" (10.2cm)
Tower Height: 20.0" (50.80cm)
Solar Panels: 3x 15-watts
Weight: 130 lb (59kg)
Net Buoyancy: 450 lb (204kg)
Hull Material: Cross-linked polyethylene foam with polyurea coating & stainless steel deck
Hardware Material: 316 stainless steel
Mooring Attachments: 3x 3/4" eyenuts
(1) CB-450 solar tower
(1) CB-450 buoy hull
(1) CAGE instrument cage
Questions & Answers
Are the buoys safe for coastal deployment?
While we generally recommend the CB-650 and larger data buoys in coastal environments, we do have many customers that have successfully deployed the CB-450 in coastal environments.
Can this model be deployed for long periods of time?
Yes, the CB-450 is designed for seasonal or year-round deployment. The system offers autonomous power with integrated battery harness and solar charging.
Can data be retrieved offshore?
When integrated with the X2-CB data logger with Wi-Fi, cellular, Iridium satellite, or radio telemetry, data is accessible in real-time via the WQData LIVE secure web datacenter.
While deployed, can the buoy be wirelessly troubleshooted?
When integrated with a wireless modem or X2-CB buoy-mounted data logger with wireless communications, the system can be accessed for remote configuration and/or troubleshooting.
How can I ensure buoy stability?
Buoy stability is dependent on a number of factors including instruments attached, mooring design, water currents, and regional weather conditions. It is recommended to examine the buoy upon deployment, adding ballast weight and adjusting the mooring as needed. Given that each deployment is unique, be sure to communicate with NexSens application engineers for optimal stability.
Under what conditions would I need to remove the CB-450 data buoy?
Freezing and periodic maintenance are the two most common reasons to remove a buoy from the water. A large number of buoy deployments are seasonal, so customers will commonly remove the buoy in the fall and redeploy in the spring. For year-round buoy deployments, NexSens recommends pulling the buoy at least once for cleaning and maintenance inspection. The potential for large storms and river debris flows are also good reasons to pull a buoy in order to prevent any ensuing damage. NexSens recommends integrating a GPS in situations where debris loads or other circumstances have the potential to move the buoy, like in a river or coastal setting.
How do I know if I need an anti-rotation collar on the instrument cage?
An anti-rotation collar is not necessary if the buoy is deployed on two point mooring and no instruments are attached to cage. Anti-rotation collars are recommended for single point moorings or when instruments are attached to the cage. This provides an added strength member and prevents the potential for cable tangling.
Can the solar panels be individually replaced in the field?
The solar panels feature a waterproof 2-pin connector that plugs into a 3-way splitter on the solar tower. In the event of a failure, the solar panel can be swapped out in the field.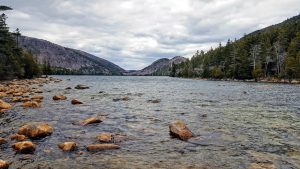 Formed by a glacier, Jordan Pond is among Maine's clearest, most beautiful bodies of water. It's also a critical freshwater resource, and watchful eyes are protecting it. 
 
 EM spoke with Dr. Rachel Fowler, Friends of Acadia's aquatic scientist, about her work monitoring Jordan Pond. A postdoctoral research scientist at the University of Maine, she is a member of a partnership among the National Park Service, the University of Maine Climate Change Institute, and Friends of Acadia that began deploying the Jordan Pond buoy in 2013. Canon provided the initial support for the project. 
 
 Friends of Acadia is a nonprofit organization that supports different projects in the park.
Read More