The Proactive Drum Pump is designed for liquid transfer from 5 gallon buckets, 55 gallon drums, and more.
Features
Lifts up to 30 feet
Constructed from high impact ABS plastic material
Operates from 12VDC battery or vehicle port
Fondriest Exclusives
Expedited repair and warranty service
Lifetime technical support
The Proactive Drum Pump is a powerful little pump that will drain over 185 gallons per hour by connecting to a 12 volt battery or vehicle port. Simply submerge the pump into whatever needs draining, connect the 12 volt battery leads or cigarette plug, and begin pumping. The Drum Pump is maintenance-free and offers a long life using a high performance self-contained 12 volt DC motor. The pump is constructed of super strong ABS material, so it will not rust or corrode.
Power Consumption: 60 Watts (max)
Volt Recommendation: 12-15V at source
Maximum Amp Output: 4 Amps
Measurements: 4.5" length x 1.43" diameter
Required Tubing: 3/8" or 1/2" ID tubing
(1) 12V Drum pump with 13' wire lead
(1) 10' 3/8" clear PVC tubing
(1) Cigarette plug
(1) Set of 12V battery clamps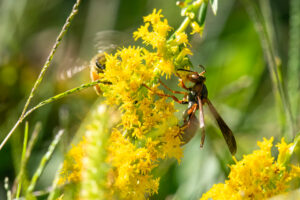 Pollinators of all shapes and sizes are vital to ecosystems around the world. From the wide array of food people eat to the diversity of life around the planet, life would be very different without them. Pollinators are organisms that help carry pollen from one plant to another, and over 350,000 species can be found worldwide, according to The California Department of Fish and Wildlife . With the strong relationship between plants and pollinators, losing either would have detrimental impacts on ecosystems. 
 
 Over millions of years, both plants and pollinators have evolved alongside each other and formed unique adaptations that allow them to work together, expediting and enhancing the process of pollination.
Read More