Proactive GoPro Inline Filters
Proactive's 700 cm2 capacity disposable filter capsules incorporate a 3/8" inlet barb tip with thread-on inlet that allows the user to easily connect virtually any type of sampling apparatus.
Features
Each GoPro filter is sealed with a heavy-duty 3 mil bag
Filter is manufactured with Polyether Sulphone Media
No color additives in or on the capsules
Fondriest Exclusives
Free ground shipping
Expedited repair and warranty service
Lifetime technical support
Questions & Answers
Can these filters be purchased individually?
Proactive GoPro Inline Filters are only sold in cases of 100. Both Geotech and Solinst filters are available for purchase individually.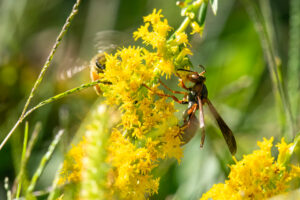 Pollinators of all shapes and sizes are vital to ecosystems around the world. From the wide array of food people eat to the diversity of life around the planet, life would be very different without them. Pollinators are organisms that help carry pollen from one plant to another, and over 350,000 species can be found worldwide, according to The California Department of Fish and Wildlife . With the strong relationship between plants and pollinators, losing either would have detrimental impacts on ecosystems. 
 
 Over millions of years, both plants and pollinators have evolved alongside each other and formed unique adaptations that allow them to work together, expediting and enhancing the process of pollination.
Read More