SonTek RiverSurveyor Power & Communications Modules
The RiverSurveyor Power & Communications Module (PCM) provides both battery power and 2.4 GHz radio communication from the S5/M9 to a customer supplied computer.
Features
Powered by (16) AA alkaline batteries
Includes 1m cable for connection to S5/M9
Optional differential or RTK GPS for collecting position data
Fondriest Exclusives
Expedited repair and warranty service
Lifetime technical support
Radio Frequency: 2.4 GHz
Optional Bridge interface module will provide a Bluetooth interface between the 2.4 GHz radio in the PCM and a computer or tablet.
Batteries:
Type: Standard AA batteries1
Average duration: 8 hours of continuous operation (6 hours with RTK GPS enabled)
GPS Options:
SBAS GPS Horizontal Accuracy2: <1.0m
RTK GPS Horizontal Accuracy2: <0.02m ; Vertical Accuracy <0.04m2,3
| | | |
| --- | --- | --- |
|   | Range (Std.; 10 dBm)4 | Range (High; 22dBm)4 |
| Base to Rover | 1000 m | 3000 m |
| PC to Rover | 450 m | 1500 m |
| Bridge to Rover | 200 m | 400 m |
1Standard AA batteries are defined as alkaline or NiMH rechargeables, with a diameter up to 14.5mm.
2Depends on multipath environment, antenna selection, number of satellites in view, satellite geometry, and ionospheric activity.
3Requires absolute RTK solution. Only available with HydroSurveyor
4High power may not be available in all countries; all ranges with default 2 dBi antenna and line-of-sight.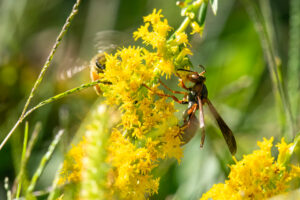 Pollinators of all shapes and sizes are vital to ecosystems around the world. From the wide array of food people eat to the diversity of life around the planet, life would be very different without them. Pollinators are organisms that help carry pollen from one plant to another, and over 350,000 species can be found worldwide, according to The California Department of Fish and Wildlife . With the strong relationship between plants and pollinators, losing either would have detrimental impacts on ecosystems. 
 
 Over millions of years, both plants and pollinators have evolved alongside each other and formed unique adaptations that allow them to work together, expediting and enhancing the process of pollination.
Read More