TriOS W55 V2 Mechanical Wiper
The TriOS W55 V2 is a mechanical wiper designed for use with the NICO, NICO plus, and OPUS UV sensors.
Features
Cleans UV optics of sensor, extending maintenance intervals
Wipe is initiated from supply voltage of 12-24 VDC
Requires wiper axis & blade set for appropriate path length
Fondriest Exclusives
Expedited repair and warranty service
Lifetime technical support
Overview
The TriOS W55 V2 Mechanical Wiper offers an additional cleaning option for TriOS NICO, NICO plus, and OPUS sensors with path lengths up to 10mm. The wiper housing can be mounted on the sensor in just a few steps and offers reliable cleaning of the measuring window. The new magnetic lock of the axle allows for a quick and easy wiper blade change without any tools.

Blockage Detection
The new version of the wiper now has blockage detection and removal and a service mode that increases the life of the wiper with regular use. The accessory can also be used in seawater up to a depth of 10m.
About 2-6 W in operation; max. 0.75 W in standby

 

 

4-pin M8-plug, includes 1.5m pigtail adapter

Current Consumption of Trigger Input

 

NBR, POM, PE (PP, EPDM), Titanium or V4A

1 Year (EU & USA: 2 Years)

Typically ≤ 0.5 hours/month

Application dependent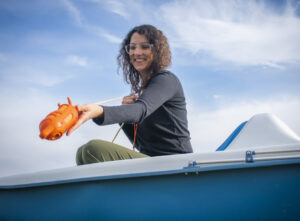 The Sontek CastAway-CTD is a castable device that measures conductivity, temperature and depth. The instrument has been used in the field for over a decade by oceanographers, limnologists, divers, fishers and educators. There have been few changes since the first iteration in 2010, showing that the instrument is durable and accurate without requiring new models. 
 
 The CastAway is the first conductivity, temperature and depth (CTD) instrument of its kind. While other CTDs are large and cumbersome to deploy, with cages and isolated sensors, the CastAway is a small, lightweight and easy-to-use instrument. Typical CTDs utilize pumps to ensure water flows over the sensors during deployment.
Read More