The YOUNG 05103 wind monitor is a field-proven high performance wind sensor, making it ideal for a wide range of wind measuring applications.
Features
Wind speed sensor is a four blade helicoid propeller
Wind direction sensor is a durable molded vane
Corrosion resistant construction protects the sensor from harsh environments
Stock
Drop Ships From

Manufacturer
Fondriest Exclusives
Free ground shipping
Expedited repair and warranty service
Lifetime technical support
The RM Young wind monitor is a field proven, high performance wind sensor. The wind speed sensor is a four blade helicoid propeller. Propeller rotation produces an AC sine wave voltage signal with frequency directly proportional to wind speed. Slip rings and brushes are eliminated for increased reliability.

The wind direction sensor is a rugged yet lightweight vane with a sufficiently low aspect ratio to assure good fidelity in fluctuating wind conditions. Vane angle is sensed by a precision potentiometer housed in a sealed chamber. With a known excitation voltage applied to the potentiometer, the output voltage is directly proportional to vane angle. A mounting orientation ring assures correct realignment of the wind direction reference when the instrument is removed for maintenance.

The instrument is made of UV stabilized plastic with stainless steel and anodized aluminum fittings. Precision grade, stainless steel ball bearings are used. Transient protection and cable terminations are in a convenient junction box. The instrument mounts on standard 1" pipe.

The Wind Monitor is available with two additional output signal options. Model 05103V offers calibrated 0-5 VDC outputs, convenient for use with many data loggers, including the NexSens iSIC data logger. Model 05103L provides a calibrated 4-20 mA current signal for each channel, useful in high noise areas or for long cables (up to several kilometers). Signal conditioning electronics are integrated into the sensor junction box.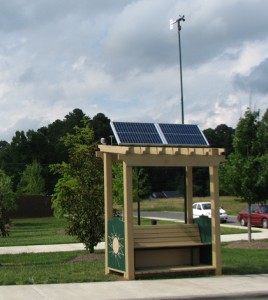 The U.S. Environmental Protection Agency is on a mission to make air quality monitoring cheaper, easier and more accessible through the implementation of innovative new monitoring stations. 
 The Village Green Project is a new initiative from the EPA that seeks to increase the scope of air quality monitoring by seamlessly incorporating monitoring devices into community settings. 
 Led by Gayle Hagler, an environmental engineer at the EPA Office of Research and Development, an EPA design team has constructed a prototype that combines the ability to monitor ozone and fine particulate matter as well as wind speed, wind direction, temperature and humidity all into the functional design of a park bench.
Read More