YSI 6655 Soft-Sided Carrying Case
The YSI 6655 is a soft-sided carrying case that is included with the purchase of any 6-Series sonde.
Features
Adjustable compartments hold the instrument, cables, flow cells, 650 MDS, and more
Straps connect together to form handle for easy transport
Zipper closure
Image
Part#
Product Description
Price
Stock
Order
696162
6655 soft-sided carrying case

In Stock
The YSI 6655 features adjustable compartments that will hold the instrument, cables, flow cell, probe guards, 650 MDS, extra probes and membranes. The case's zipper closure and straps connect together to form the handle for easy transport; it comes standard with all 6-series sonde orders.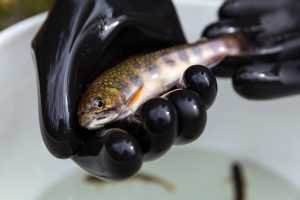 The North Carolina Wildlife Resources Commission 's Inland Fisheries Division has been working to restore brook trout in the state. Coldwater research coordinator Jacob Rash, who works with the brook trout team technicians on this project, spoke to EM about the work. 
 
 "In North Carolina, brook trout are our only native trout species," explains Mr. Rash. "With that come biological and ecological considerations as well as cultural importance. A lot of folks here grew up fishing for brook trout with their relatives, so it's an important species that we work to try to conserve. We've done quite a bit of work to figure out where those brook trout populations are and what they are, in terms of genetics.
Read More