YSI EcoSense EC300A Conductivity Meter
The YSI EcoSense EC300A meter provides cost-effective measurements of conductivity, specific conductance, TDS, salinity, and temperature.
Features
IP67 waterproof rating
50 data set reviewable memory
Comfortable, ergonomic design
Fondriest Exclusives
Free ground shipping
Expedited repair and warranty service
Lifetime technical support
Overview
The YSI EcoSense EC300A Conductivity Meter simultaneously measures conductivity, specific conductance, salinity, TDS (Total Dissolved Solids) and temperature with the following features:
IP67 Waterproof housing

1-year instrument warranty

Rugged, weighted probe assembly

Automatic temperature compensation

4- and 10-meter field cables available

Low battery indicator with 500-hour battery life

Super-stable, four-electrode conductivity cell designed for the field

Auto shutoff function after 30 minutes of inactivity


50 data set memory
Compact and Economical
The EC300A is designed for quick, accurate results in an economical platform. The ability to measure conductivity, salinity, TDS and temperature in a simple, compact handheld allows the instrument to be used across multiple application sampling strategies. With a one-year instrument and electrode warranty, waterproof case and ease of use, the EC300A will fit sampling needs.
(1) YSI EcoSense EC300A Conductivity meter
(1) 9V alkaline battery
(1) Operations manual
Questions & Answers
What TDS factor is used?
The YSI EcoSense EC300A conductivity meter uses a default TDS factor of 0.65. This value can be changed and saved to a user-specific factor between 0.30 and 1.00.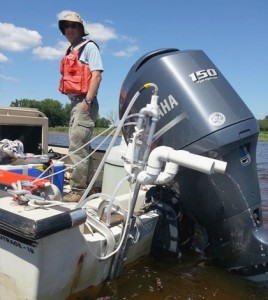 While limnologists are well-versed in tracking how a lake or river changes at a single point over time, a new homespun, high-speed sampling rig could soon help scientists capture a snapshot of how water quality varies across a water body's entire surface. 
 
The Fast Limnology Automated Measurement platform, or FLAMe, is a boat-mounted water intake system that analyzes surface water quality with advanced sensors while traveling "as fast as your boat can go, essentially," said John Crawford, a USGS research ecologist. 
 
Crawford started working on the FLAMe platform while a graduate student at the University of Wisconsin's Center for Limnology, where he said his supervisors first scoffed at the concept before coming around.
Read More