YSI ODO RTU Optical Dissolved Oxygen Sensors
The YSI ODO RTU utilizes the most advanced DO technology with RS-485 Modbus output for aquaculture, hydroelectric, and many more dissolved oxygen monitoring applications.
Features
Highly-accurate ODO sensor technology with no stirring
Optional conductivity sensor for automatic salinity compensation
2-year cable and probe warranty with user-replaceable DO cap
Fondriest Exclusives
Free ground shipping
Expedited repair and warranty service
Lifetime technical support
Engineered specifically for aquaculture applications, but at home in any Modbus system, the optical dissolved oxygen (ODO) sensor can be used to ensure adequate oxygen levels for a variety of applications. ODO RTU utilizes the most advanced DO technology and can be connected anywhere without the need for special connectors. Additional inputs for barometric pressure and salinity are used to accurately calculate the DO% and mg/L. ODO RTU is also availabale with built-in conductivity measurement to automatically compensate for salinity.
Questions & Answers
Can the YSI ODO RTU Optical Dissolved Oxygen Sensor interface with data loggers?
Yes, the YSI ODO RTU is configured with native Modbus output (RS485) and will interface with many data logging platforms.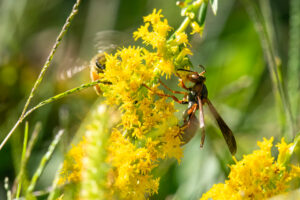 Pollinators of all shapes and sizes are vital to ecosystems around the world. From the wide array of food people eat to the diversity of life around the planet, life would be very different without them. Pollinators are organisms that help carry pollen from one plant to another, and over 350,000 species can be found worldwide, according to The California Department of Fish and Wildlife . With the strong relationship between plants and pollinators, losing either would have detrimental impacts on ecosystems. 
 
 Over millions of years, both plants and pollinators have evolved alongside each other and formed unique adaptations that allow them to work together, expediting and enhancing the process of pollination.
Read More