YSI Pro30 Conductivity Meter
The YSI Pro30 simultaneously measures conductivity, specific conductance, salinity, total dissolved solids (TDS) and temperature (sensors sold separately).
Features
4-electrode conductivity cell is built directly into the cable bulkhead
User replaceable cables with MS connector that locks into place
Available with 1, 4, 10, 20, or 30-meter cable lengths
Fondriest Exclusives
Free ground shipping
Expedited repair and warranty service
Lifetime technical support
Overview
The YSI Pro30 field conductivity meter simultaneously measures conductivity, specific conductance, salinity, total dissolved solids (TDS) and temperature. User-replaceable cables. The instrument also features Mil-spec (military spec) quarter-turn locking connectors, an IP-67 waterproof rating with rubber over-molded case, and 1-meter drop test rating.

Super-Stable 4-Electrode Conductivity Cell
Built directly into the cable bulkhead providing years of accurate data. The conductivity cells are designed for rugged field performance and are easily cleaned with a small conductivity brush. 

Features
Quick Cal routine allows calibrations with the push of a button; remembers previous calibration values and walks the user through the routine
Stores 50 data sets
Graphic, backlit display and glow-in-the-dark keypad
View display with polarized sunglasses on
Multiple languages include English, Spanish, French and German
User-replaceable cables utilizing a robust MS connector that locks in place with a quarter turn rotation
The conductivity cell is part of the cable bulkhead and is a proven, field-worthy electrode
3-year instrument; 2-year cable warranty
*Pro30 purchases include the instrument, manual, batteries, USB cable, and USB flash drive. Cables and probes are ordered separately.
Cable Lengths: 1- 4- 10- 20- and 30-m lengths (3.28, 13.1, 32.8, 65.6 ft.)
Certifications: RoHS, CE, WEEE, IP-67, 1-meter drop test
Connector: MS (military spec) waterproof with bayonet lock
Data Memory: 50 data sets
Dimensions: 8.3 cm width x 21.6 cm length x 5.6 cm depth (3.25 in x 8.5 in x 2.21 in)
Languages: English, Spanish, German, French
Power: 2 alkaline C-cells providing approximately 400 hours of battery life depending on backlight usage; low battery indicator
Warranty: 3-year instrument; 2-year cable and sensor
Waterproof: IP-67 (even with the battery cover off)
Weight with Batteries: 475 grams (1.05 lbs)
Conductivity Reference Temp: Adjustable; range 15C to 25C
Specific Conductance Temp Comp: 0 to 4%
TDS Constant Range: 0.3 to 1.0
(1) YSI Pro30 display
(1) Operations manual
(2) C-cell batteries
Questions & Answers
Can the YSI Pro30 Conductivity meter download data to my PC?
No. The YSI Pro30 can store up to 50 data sets on its internal memory, but it cannot transfer the data to another device.
Which carrying case do I need?
The 6262 carrying case is designed to carry a Pro series meter and a 1m or 4m cable assembly. The 3075 carrying case is designed to carry the meter and cable assemblies that are 10m or longer. The 3074 is a hard-sided case that can accommodate Pro Series and 556 meters, cables and flow cells.
Does the YSI Pro30 store calibration data?
Yes, the YSI Pro 30 Conductivity Meter will remember the previous calibration data and display it when recalibrating.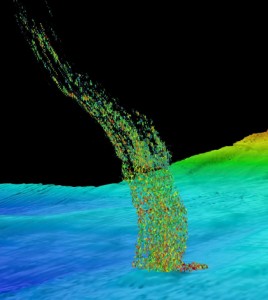 The ocean keeps secrets from surface to seafloor, and some even deeper still. A group of researchers from University of Washington discovered one such secret by accident — and their findings could change the scientific world's understanding of climate change and its relation to the Pacific. 
 
"In 2013, we were preparing for a research expedition that had nothing to do with this," said Evan Solomon, assistant professor of oceanography at UW. "We wanted to get a long-term record of bottom water temperature variability." 
 
The team gathered conductivity, temperature and depth profiles off the Washington coast. A comparison with other research quickly revealed a long-term trend of warming in the area.
Read More