YSI Pro2030 Dissolved Oxygen & Conductivity Meter
The YSI Pro2030 is a handheld dissolved oxygen meter (sensors sold separately) that automatically compensates for changes in salinity values.
Features
Internal barometer for high accuracy dissolved oxygen readings
Choose from a long life polarographic sensor or immediate warm-up galvanic sensor (sensors sold separately)
Quick Cal allows DO calibrations within seconds at the push of a button
Fondriest Exclusives
Free ground shipping
Expedited repair and warranty service
Lifetime technical support
Overview
The YSI Pro 2030 is a handheld dissolved oxygen & conductivity meter that can simultaneously measure dissolved oxygen, salinity, conductivity, specific conductance, total dissolved solids (TDS), barometric pressure and temperature.

Long-Lasting and Quick Response
Offer fast response times with polarographic or galvanic DO sensor options. The long life of the polarographic sensor saves time and money, reducing overall cost. The galvanic sensor allows the user to start sampling immediately without a warm-up period. Both sensors offer accurate, quality data. The stable 4-electrode conductivity cell is built into the cable and will provide years of accurate data. The cells are designed for rugged field performance, are easily cleaned and require minimal maintenance.

Meets the Demands of True Field Work.
Rated to IP-67 standards even without the battery cover on. Other tough features include Mil-spec connectors and rubber over-molded case. In-house testing procedures also include 1m drop tests from all angles to ensure expected field-durability.

Additional Features Include:
Choose field DO sensors (Polarographic or Galvanic)
Stores 50 data sets
Graphic, backlit display and glow-in-the-dark keypad
Available with 1, 4, 10, 20, or 30m cables (4m and longer cables include cable management kit)
View display with polarized sunglasses on
Fastest DO response time on the market with 95% response in 8 seconds with standard membrane
Multiple languages include English, Spanish, French and German
User replaceable DO sensors and cables
Conductivity cell built-in
3-year instrument; 2-year cable warranty
*YSI Pro2030 purchases include the instrument, manual, batteries, USB cable, and USB flash drive. Cables and probes are ordered separately.
Barometer: Built-in barometer
Cable Lengths: 1- 4- 10- 20- and 30-m lengths (3.28, 13.1, 32.8, 65.6 ft.)
Certifications: RoHS, CE, WEEE, IP-67, 1-meter drop test
Connector: MS (military spec) waterproof with bayonet lock
Data Memory: 50 data sets
Dimensions: 8.3 cm width x 21.6 cm length x 5.6 cm depth (3.25 in x 8.5 in x 2.21 in)
Languages: English, Spanish, German, French
Power: 2 alkaline C-cells providing approximately 400 hours of battery life depending on backlight usage; low battery indicator
Salinity Input Range: 0-70 ppt; automatic - uses conductivity reading; DO compensated for salinity values
Warranty: 3-year instrument; 2-year cable; 1-year Polarographic sensors; 6-months Galvanic sensors
Waterproof: IP-67 (even with the battery cover off)
Weight with Batteries: 475 grams (1.05 lbs)
Conductivity Reference Temp: Adjustable; range 15C to 25C
Specific Conductance Temp Comp: 0 to 4%
(1) YSI Pro2030 display
(1) Operations manual
(2) C-cell batteries
Questions & Answers
Can I interface and transfer data to my computer with the Pro2030?
No, the YSI Pro2030 DO & Conductivity meter cannot be directly connected to a PC.
What if I need to calibrate the internal barometer?
The internal barometer in the YSI Pro2030 is calibrated at the factory. However, if this requires adjustment due to specific user location, a new value can be entered. This value should be the "true" local pressure, not corrected for sea level.
I want to purchase this meter with a 10 m cable and case. Which case should I get?
The 3075 carrying case is designed to carry a Pro Series meter with a 10 m or longer cable assembly. The 3074 is a hard-sided case that can carry either a Pro Series or 556 meter with a cable and flow cell. The 6262 case is used with a Pro Series meter and a 4 m or shorter cable assembly.
Does this handheld meter come with a hand strap or is it sold separately?
The YSI Pro2030 meter comes with the Pro2030 display, an adjustable hand strap, operations manual and quick start guide and (2) C-cell batteries.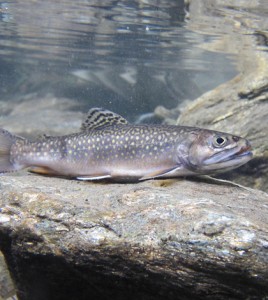 Migrating fish species have it tough when it comes to getting back to their spawning grounds. Most of the time, they're swimming against high-velocity currents and have to worry about passing through culverts and dams. 
 
But with the right mix of restoration projects, it's possible to make things easier for these fish, as officials with the U.S. Fish and Wildlife Service (USFWS) know quite well. Crews with the agency in New York have been focusing in recent months on projects that can help brook trout, a fish that is held in high regard by anglers in the state. 
 
Before restoration work can take place, it's important to know what streams, if improved, will provide the most benefits for brook trout.
Read More