YSI 3682 Zobell solution is used to calibrate ORP/Redox on several YSI instruments.
Features
Designed and manufactured to the highest quality standards
Each bottle of Zobell standard contains a powdered reagent
Mixes with distilled water to produce ORP standard
Fondriest Exclusives
Expedited repair and warranty service
Lifetime technical support
Questions & Answers
How should the Zobell solution be stored after mixing?
Mixed Zobell standard can be stored in an opaque container at room temperature for up to 6 months before expiring.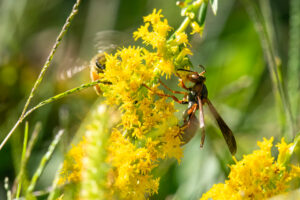 Pollinators of all shapes and sizes are vital to ecosystems around the world. From the wide array of food people eat to the diversity of life around the planet, life would be very different without them. Pollinators are organisms that help carry pollen from one plant to another, and over 350,000 species can be found worldwide, according to The California Department of Fish and Wildlife . With the strong relationship between plants and pollinators, losing either would have detrimental impacts on ecosystems. 
 
 Over millions of years, both plants and pollinators have evolved alongside each other and formed unique adaptations that allow them to work together, expediting and enhancing the process of pollination.
Read More