Eno Scientific Well Sounder 2010 PRO Water Level Meter
The Eno Scientific Well Sounder 2010 PRO is a portable sonic water level meter designed to measure the static water level in wells.
Features
Automatic temperature compensation
Calculate drawdown and recovery rates
Data points stored in non-volatile memory
Fondriest Exclusives
Free ground shipping
Expedited repair and warranty service
Lifetime technical support
Overview
The Eno Scientific 2010 PRO is a portable sonic water level meter that uses sound waves to measure the distance from the top of the well to the water level, eliminating the need to lower anything into the well and preventing well contamination. Simply place the probe into a well cap vent opening and turn the unit on. Within seconds, the static water level measurement is displayed. With the press of a button, the instrument calculates and displays a variety of other information such as the total water in the well, rate of change, temperature, and battery voltage.

Built-in Data Logger
The Eno Scientific 2010 PRO can record up to 13,000 time-stamped readings along with the well ID, temperature, and other associated measurements. The logger can be set to take measurements automatically at intervals between 1 and 60 minutes, or manually by pressing the LOG button on the keypad. The recorded data can be reviewed on the screen or downloaded to a computer for analysis using the serial RS-232 port or the included USB cable. Stored data is formatted in simple Windows-compatible text files sorted by well ID. Data can be easily copied from the instrument onto the computer and opened with almost any common program such as Word, Excel, or Notepad.

Other Features
Includes a power save mode, which puts the unit to sleep between measurements when logging and turns the power off after a selected period of inactivity. If there are known defects in the well, such as a rock fissure, simply set the measurement range minimum and maximum to ignore the interference. The multi-purpose bi-directional serial port can also be used to transmit data in real-time to a remote readout or logging device.
Power
Internal Power: 6 AA Alkaline batteries
External Power (Optional): 5.5 to 12VDC at 50ma
Real-Time Clock: Li Ion 3V battery CR2032
Measurement
Resolution: .05 ft
Accuracy: 0.1 ft
Range: 9 to 2000 ft
Temperature Compensation: Built-in to probe
Logging
Memory: Non-volatile flash memory for 13,000 data points
Logging Rates: 1 second to 60 minutes
Environmental
Temperature: -10 to 110 F
Humidity: 10 to 90% non-condensing
Physical
Dimensions: 4"x 7.5"x 1.25"
Weight: ~13 oz
Display: 2x16 character LCD
Outputs
USB port: For access to file system
Serial Output: 300 to 57600 baud, 8 data bits, 1 stop bit (19200 baud default)
(1) Well Sounder 2010 PRO meter
(1) Probe with 6 ft cable
(1) USB cable
(1) Carrying case
(1) US Groundwater Temperature Chart
(1) Quick Start Guide
(1) User Manual
Questions & Answers
Is the well sounder waterproof?
The sonic water level meter unit and probe are resistant to rain and splashing but not saturation or submersion. They will be damaged if submerged.
How deep will the Eno Scientific well sounder measure?
The maximum range is 2000 feet. On a 6" well with tight clean casing all the way down and little to no obstructions along the way, the maximum depth can be achieved. On uncased wells drilled through porous stone or with irregular walls, or any obstructions such as spacer rings or couplings, the range will be reduced.
What happens when the log memory is full?
When the log memory is full, the sounder stops recording new data and preserves the first data points. The Well Sounder 2010P will continue to record data in its extended data memory up to 2GB and be accessible with the USB connection.
Can the Well Sounder be used on hand dug wells?
Hand dug wells are often fairly large and irregular, which may cause multiple or weak sound reflections. However, in any difficult to measure well, a small tube can be installed specifically for measurement. A 3/4" PE pipe can be used for up to 1000 feet provided splicers do not restrict the ID.
Can I use the Well Sounder on an open well?
The Eno Scientific Well Sounder was designed to work on a closed well. A simple piece of rigid card board or plastic held against the opening is enough to meet this requirement. In many cases it will work on the open well but may be off by a couple feet.
Can I use an external power source?
Yes, the sonic water level meter can be used with six AA alkaline batteries or with a 6.5-12 VDC external power source. If using an external source, the power must not exceed 16 VDC.
Are the batteries in the well sounder a standard AA or AAA that we should have the rechargeable on hand for or are they a less common size?
There are (6) standard AA batteries installed in the well sounder. There is a screw in the back where the batteries can be easily replaced.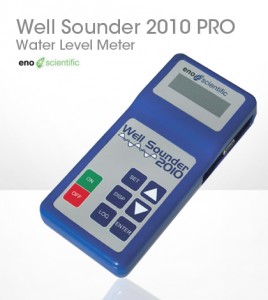 Measuring the distance to the water's surface in a well can be difficult, especially when the well is deep and full of obstacles that can block and entangle mechanical measuring tools. 
 But the Eno Scientific Well Sounder 2010 Pro gets around those obstacles with the power of sound, eliminating the need for any mechanical measuring. The device sends low-frequency sound waves down a well until they hit liquid. 
 "The sound can go around all the wiring and pipes and stabilizers within the well and give a measurement within a second," said Rachel Bean, Eno Scientific sales manager. 
 The Well Sounder's probe emits broadcasts low-frequency sound waves from the top of a well. The waves return in about one second per 500 feet.
Read More