Eos Arrow 200 GNSS Receiver
The Eos Arrow 200 is a GNSS receiver capable of providing 1cm real-time accuracy on any Android, iOS and Windows mobile device.
Features
Supports existing and future GNSS (GPS, GLONASS, Galileo, BeiDou)
100% Android, iOS, Windows compatible
1cm RTK real-time accuracy
Fondriest Exclusives
Free ground shipping
Expedited repair and warranty service
Lifetime technical support
The World's First RTK Receiver for Every Mobile Device
Designed for use with a broad range of mobile devices, from smartphones to tablets and notebook computers, the Eos Arrow 200 incorporates rock-solid, wireless Bluetooth technology that works smoothly with Android, iOS, and Windows devices, making it obsolete-proof and portable across platforms.

Consumer Choice of Mobile GIS Software
The Arrow 200 feeds 1cm RTK accuracy to every app on Android or iOS devices, including Google or Apple maps. The Arrow 200 works seamlessly with Esri Collector/ArcPad/ArcMobile, Fulcrum, AmigoCloud, TerraFlex, MapItFast, GeoJot, iCMTGIS and many more mapping apps.

All Satellites, All Signals
The Eos Arrow 200 incorporates premium features that place it among the highest-performing receivers in the world. It takes advantage of all existing satellite constellations (GPS, GLONASS, BeiDou, SBAS) as well as emerging and planned constellations (Galileo and QZSS) to deliver top-notch, 1cm RTK performance anywhere in the world when connected to an RTK Network or 10-15cm accuracy using OmniSTAR HP or G2.

The Ultimate in Worldwide High-Precision GNSS Technology
The Arrow 200 provides ultimate flexibility. Use one of OmniSTAR's services to get 10cm real-time accuracy anywhere in the world. Collect data anywhere in the world using Eos' free data collection program and post-process the data using free online processing services like PUS or AUSPOS to achieve centimeter accuracy anywhere.
(1) Arrow 200 receiver with Arrow Smart Battery Pack
(1) Dual-Frequency GNSS / LBand Precision Antenna
(1) Large Antenna Mounting Plate
(1) Two-section Short Antenna Cable for survey pole
(1) Arrow Pole Mount Bracket
(1) Range Pole Clamp
(1) USB Data Cable
(1) 12V International Power Supply for Arrow Smart Battery pack
(1) Hard Shell Case
Questions & Answers
What is the difference between cloud-based and standalone apps?
The main difference in the two collection apps is that cloud-based applications send data to a GIS server where standalone does not.
Can you use the Arrow200 with Google and Apple maps?
What is the difference between the Arrow Lite, Arrow 100, and Arrow 200?
The Arrow Lite is a single frequency submeter GPS, while the Arrow 100 is a single frequency, multi-constellation GPS. The Arrow 200 is a multi-frequency, multi-constellation submeter GPS.
My Arrow 200 was dropped in water, will it still work?
The Arrow 200 is rated for 30 minutes of immersion in 30cm.
How long will my battery take to charge?
The battery pack takes about 4 hours to fully charge from empty.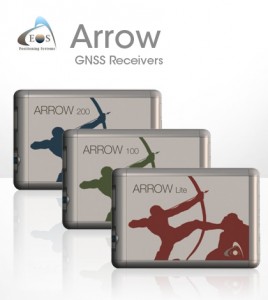 For pros working in mapping, surveying and other GIS fields, quick, precise data are a must. And the key to getting those data is getting the right receiver. 
 
As a result, many turn to high-accuracy, multi-constellation receivers like the Arrow series built by Eos Positioning Systems. The series includes the Eos Arrow Lite GPS Receiver, Eos Arrow 100 GNSS Receiver and Eos Arrow 200 L1/L2 GNSS Receiver. The receivers are popular for many reasons: They have the flexibility to use multiple satellite constellations, offer real-time data transmission capability and can connect to any device via Bluetooth. 
 
The Arrow receivers use the United States' GPS constellation of satellites, but they can just as easily link up with Russia's GLONASS, China's Beidou and Europe's Galileo.
Read More