Geotech Manual Water Level Meters
Geotech water level meters are portable instruments built to measure water levels in deep monitoring wells and bore holes.
Features
Highly accurate Polyethylene coated steel well tape
Durable field serviceable 5/8" probe with stainless steel conductors
Prevent false triggering with adjustable sensitivity
Stock
Drop Ships From

Manufacturer
Fondriest Exclusives
Expedited repair and warranty service
Lifetime technical support
The Geotech Water Level Meters are portable instruments built to accurately measure water levels in deep monitoring wells and bore holes. The manual well tape detects water levels with a 5/8" O.D. stainless steel weighted probe attached to a tape marked to 1/100th of a foot. The tape is mounted on a heavy-duty steel and aluminum reel with optional electric rewind.

The well tape relies on fluid conductivity to determine the presence of water. An audible signal and visible LED light activate when the probe contacts water. This water level meter incorporates a sensitivity adjustment to prevent false triggering.
Questions & Answers
How long will the battery last?
The 9 Volt DC alkaline battery will last up to 8 hours of continuous detecting. When not in use, the meter should be stored with the switch in the OFF position. If the meter will be stored for more than three months, the battery should be removed.
How do I prevent false triggers?
The sensitivity of the probe can be adjusted to prevent false triggering while still detecting water levels.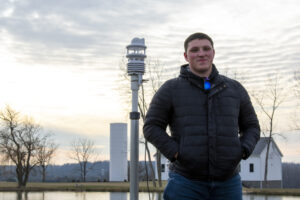 The Lufft WS800 Multi-Parameter Weather Station measures a full suite of atmospheric parameters that provides all-encompassing data on the local environment, including a one-of-a-kind lightning detector. This compact, cost-effective sensor simultaneously measures air temperature, humidity, pressure, precipitation, solar radiation, lightning, and wind with an integrated electronic compass. An internal fan and heater reduce the effects of external influences for accurate measurements during long-term deployments. The sensor can be easily mounted on a 2-inch diameter pipe above any local obstructions with the included bracket mount, U-bolts, and 10-meter cable. 
 
 Settings for the unit can be adjusted using the latest UMB-ConfigTool.
Read More