Hach 2100Q Portable Turbidity Meter
The Hach 2100Q is a portable meter that offers ease of use and accuracy in turbidity measurement.
Features
Single standard calibration reduces calibration and handling time
On-screen assisted verification ensures instrument is performing correctly
RST mode for precise measurement in rapidly settling samples
Fondriest Exclusives
Free ground shipping
Expedited repair and warranty service
Lifetime technical support
Easy Calibration and Verification
The Hach 2100Q Portable Turbidity Meter provides confidence that measurements are right every time. On-screen assisted calibration and verification save time and ensure accuracy. With an easy-to-follow interface, complicated manuals are not needed to perform routine calibrations. Single-standard RapidCal calibration offers a simplified solution for low-level measurements.

Simple Data Transfer
Data transfer with the Hach 2100Q portable turbidity meter is simple, flexible, and doesn't require additional software when used with the optional USB + Power module. All data can be transferred to the module and easily downloaded to a computer with a USB connection.

Accurate for Rapidly Settling Samples
The Hach 2100Q Portable Turbidity Meter incorporates an innovative Rapidly Settling Turbidity mode to provide accurate, repeatable measurements for difficult-to-measure, rapidly settling samples. An exclusive algorithm that calculates turbidity based on a series of automatic readings eliminates redundant measurements and estimating.

Convenient Data Logging
Up to 500 measurements are automatically stored in the instrument for easy access and backup. Stored information includes date and time, operator ID, reading mode, sample ID, sample number, units, calibration time, calibration status, error messages and the result.

Optical System for Precision in the Field
The two-detector optical system compensates for color in the sample, light fluctuation, and stray light, enabling analysts to achieve laboratory-grade performance on a wide range of samples, even under difficult site conditions.
Measurement Method: Ratio turbidimetric determination using a primary nephelometric light scatter signal (90) to the transmitted light scatter signal.
Regulatory: Meets EPA Method 180.1
Light Source: Tungsten filament lamp
Range: 0 to 1000 NTU (FNU)
Accuracy: +/-2% of reading plus stray light from 0 to 1000 NTU
Repeatability: +/-1% of reading, or 0.01 NTU (FNU), whichever is greater
Resolution: 0.01 NTU on lowest range
Stray Light:< 0.02 NTU (FNU)
Signal Averaging: Selectable on/off
Detector: Silicon photovoltaic
Reading Modes (user selectable): Normal (Push to Read); Signal Averaging; Rapidly Settling Turbidity
Data Logger: 500 records
Power Requirement: 110-230 VAC, 50/60 Hz (with Power or USB+Power module); 4 AA alkaline batteries; Rechargeable NiMH (for use with USB+Power module)
Operating Conditions: Temperature: 0 to 50 C (32 to 122 F); Relative Humidity: 0 to 90% @ 30 C, 0 to 80% @ 40 C, 0 to 70% @ 50 C, non-condensing
Storage Conditions: -40 to 60 C (-40 to 140 F), instrument only
Interface: Optional USB
Instrument Enclosure Rating: IP67 (closed lid, battery compartment excluded)
Protection Class: Power Supply: Class II
Certification: CE certified
Sample Required: 10mL (0.3 oz.)
Sample Cells: 60mm x 25mm (2.36" x 1") borosilicate glass with screw cap
Dimensions: 22.9cm x 10.7cm x 7.7cm (9.0" x 4.2" x 3.0")
Weight: 527g (1.16 lb.) without batteries; 618g (1.36 lb.) with four AA alkaline batteries
(1) 2100Q portable turbidity meter
(1) Carrying case with insert
(6) Sample cells
(1) Sealed vial each of 20, 100 & 800 NTU StablCal primary calibration standards
(1) 10 NTU primary verification standard
(1) 15mL bottle of silicone oil
(1) Sample cell oiling cloth
(1) Operations manual
(1) Quick start guide
(4) AA alkaline batteries
Questions & Answers
Will this instrument accept commands through its USB port?
No, the keypad on the turbidity meter is the used to command and configure the instrument. The USB module can only be used for one-way data transfer to a PC.
How can I save and access my data?
Up to 500 time stamped measurement records can be stored internally on the 2100Q portable turbidity meter. This data can also be easily downloaded to a PC in an XML format via the 2100Q USB+Power module (sold separately)
What will happen if the internal memory is full?
The turbidity meter will not be able to save additional measurements once the data storage is full. The data can be transferred to a PC via the USB module or manually deleted from the device.
What measurement method does this turbidimeter use?
The Hach 2100Q Portable Turbidity Meter uses nephelometric technology. A Tungsten filament lamp and a 90/180 degree silicon photovoltaic detector are used to measure light scattered by suspended particles in order to determine turbidity.
How accurate is this meter?
The Hach 2100Q is accurate within ±2% of reading plus stray light from 0 to 1000 NTU.
What is the difference between the 2100Q and the 2100Q IS?
The 2100Q is in compliance with EPA Method 180.1 and uses a tungsten lamp as a light source. The 2100Q IS is in compliance with ISO 7027, and uses an infrared LED as the light source.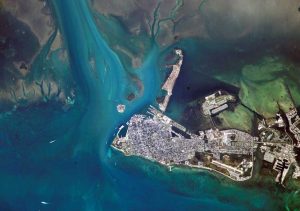 In the early days of the Covid-19 pandemic, there was a period of unexpected environmental optimism. 
 
 Wild goats roamed the streets of a town in Wales after its residents retreated indoors. Air quality improved in metropolises around the world. As shipping paused or slowed down, the oceans were quieter than they have been for some time. 
 
 Now research shows that water quality improved around Key West, Florida, during 2020, a year in which the Covid-19 pandemic kept people indoors and slowed boat traffic. 
 A Visible Difference 
 Henry Briceño first found out about the clearer water around Key West from locals who noticed a difference. So he decided to check those observations against the data.
Read More