Geotech Portable Turbidity Meter
The Geotech Portable Turbidity Meter is designed to withstand the rigor of field analysis with laboratory precision and repeatability.
Features
White light source meets EPA Method 180.1
Shockproof, waterproof, and floats in water - even with the lid open
Integrated data logger stores up to 1000 data sets
Stock
Drop Ships From

Manufacturer
Fondriest Exclusives
Free ground shipping
Expedited repair and warranty service
Lifetime technical support
Overview
The Geotech Portable Turbidity Meter is an extremely robust portable/laboratory instrument. Data points from field sample events can be stored in memory and transferred to a computer or other storage devices. Provides fluid clarity insight by shining light onto a sample and measuring the amount of light scattered by suspended particles in the fluid.
Included in Kit
Turbidity Meter
Economy Case with Custom Cut Foam (pictured above)
4 Primary Calibration Standards: 0.10, 20, 100, 800 NTU
Lint-Free Cloth
2 Sample Vials
4 AA Batteries
(1) Turbidity meter
(1) Case with custom cut foam
(4) Primary calibration standards: 0.10, 20, 100, 800 NTU
(1) Lint-free cloth
(2) Sample vials
(4) AA batteries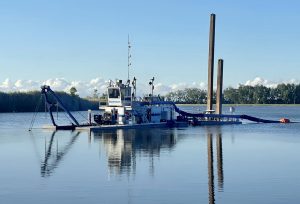 Though dredging is often painted in a negative light, dredging initiatives and projects are often conducted to improve environments, begin recovery periods for water beds contaminated with toxins, and reinvigorate ecological systems and habitats. Many of the technicians and engineers who plan and execute dredging projects are dedicated to balancing the economic benefits of dredging with protecting the environment. 
 
 Sevenson Environmental Services Inc. provides sediment remediation as one of many key services offered to help restore natural environments. Steven Shaw spent more than a decade working as an engineer on various dredging projects before finding his way to Sevenson eight years ago.
Read More