Heron dipper-Tag Tag Lines
The economical Heron dipper-Tag is a multi-purpose tag line designed for use when installing or monitoring wells.
Features
Included 1" (25.4mm) stainless steel (Grade 316) plopper
Kevlar reinforced polyethylene tape with metric (mm) or engineering scale (1/100') markings
Includes carry bag to protect the tag line from the elements
Stock
Drop Ships From

Manufacturer
Fondriest Exclusives
Free ground shipping
Expedited repair and warranty service
Lifetime technical support
The economical dipper-Tag is a multi-purpose unit designed for use when installing or monitoring wells. The 316 grade s/s weighted plopper that comes with the dipper-Tag can be used for measuring to the bottom of a well, or the depth to the top of a bentonite layer or backfill sand. The plopper can also be used to measure to the top of the water level acoustically. The spring release clip allows the user to exchange the plopper to other instruments such as a water level logger or bailer.
Polyethylene Tape
3/4″ Stainless Steel (Grade 316) weight with removable Plopper
Stainless Steel Spring Clip – to attach included weight / plopper or other attachments (Bailers/Data Loggers/dipper-See H2GO/etc.)
Vinyl ergonomic handle
(3x) 1.5″ x 12″ biodegradable bailers
Backpack Carrying Case w/ adjustable straps, laptop & notepad pouches
Questions & Answers
Does the backpack come with the purchase of the meter?
Yes, the backpack is included with the purchase of all Heron water level meters, oil/water interface meters, temp/conductivity meters, and tag lines. Please refer to the Contents tab for a full list of what's included.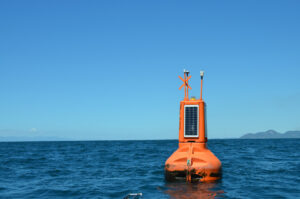 Lake Malawi (also known as Lake Nyasa and Lake Niassa) doubles as a Rift Valley Lake and one of the seven African Great Lakes. Due to its unique biodiversity, it's a great place to conduct limnological studies. Harvey Bootsma is a professor for the School of Freshwater Sciences at the University of Wisconsin-Milwaukee and has had an interest in limnology ever since he was a kid. Bootsma fondly recalls summer vacations to Georgian Bay, Ontario, "I probably spent as much time in the water as I did out of it." He continues,"I remember telling myself 'I'm going to get a job where I can stay here all the time.'" While Harvey didn't end up working on Georgian Bay, he was offered a job working on Lake Malawi. He continued working there while completing his Ph.D.
Read More