Solinst Model 103 Flat Tape Tag Lines
The Solinst Model 103 Flat Tape Tag Line is a multi-purpose solution for pump deployments, measuring depth to the bottom of a well, or support line for down-well samplers and data loggers.
Features
Markings are laser etched every 1/100 ft or each mm
Standard tag weight measures 1.5 lbs and is 3/4" x 12" (included)
Includes tape guide to protect the tape from damage on rough edges
Fondriest Exclusives
Free ground shipping
Expedited repair and warranty service
Lifetime technical support
The Solinst Tag Line uses a weight attached to a laser marked flat tape, and is principally designed for use during the installation of monitoring wells. The Tag Line also provides a simple method to measure the depth to the bottom of a well. It is also ideal as a multipurpose marked support cable.

The Model 103 Flat Tape Tag Line uses a 3/8" (10 mm) PVDF flat tape. The tape has a break strength of greater than 220 lbs (100 kg). It has a thick dog bone design that prevents adherence to wet surfaces, and allows it to hang straight. The well tape comes with laser markings every 1/100 ft. or each millimeter. Lengths are 100 ft to 1000 ft. (30 m to 300 m).

The standard stainless steel tag weight is 1.5 lbs (0.68 kg) and measures 3/4" x 1 ft. (19 mm x 30 cm). A narrow tag weight, 1/2" x 1 ft. (13 mm x 30 cm), weighing 0.65 lbs (0.30 kg), is also an option. Tag weights have tapered ends to minimize hang-ups during deployment and return to surface, and can be clipped on and off the tape. This allows the use of the reel-mounted marked well tape for other uses, such as bailer, or pump, and packer deployment.
(1) Solinst Model 103 Tag line mounted on reel
(1) 3/4" x 1' tag weight
(1) Tape guide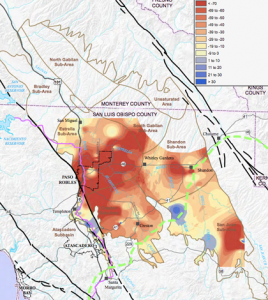 Groundwater level data collected by a Central California county shows significant drops during the past 12 years, according to a San Luis Obispo Tribune article. 
 Data shows that groundwater has dropped by a minimum of 70 feet from 1997 to 2009 in the Paso Robles area of Central California. 
 In the past four years the areas of most significant decline have expanded north and south. 
 Drought and agricultural withdrawals are the likely culprits for the groundwater decline. 
Some advocates are calling for more responsible water use by vineyards in the area, while farmers note that the recent drought did not help the situation.
Read More