HyQuest Solutions Tipping Bucket Flow Gauges
The HyQuest Solutions TB0.5L and TB1L Tipping Bucket Flow Gauges are used for measuring water flow coming from a pipe or a drain.
Features
Bucket tip volume set at 0.5L or 1L per tip
Maximum flow rate of 25 liters per minute
Includes 24VDC dual reed switch
Fondriest Exclusives
Free ground shipping
Expedited repair and warranty service
Lifetime technical support
HyQuest Solutions' single tipping bucke flow gauges TB0.5L and TB1L are used for measuring water seepage coming out of a pipe or a drain. In both models, the bucket is connected to its own dual reed switch effectively enabling redundant data acquisition in two distinct data loggers, or providing data to two devices (e.g. a data logger and a counting display), etc.

TB0.5L and TB1L are perfectly suitable for flow measurements in water carrying sediments or iron hydroxide deposition. Made of plastics and coated steel, these devices are both robust and fast and easy to clean.

The bucket tips when it is filled to maximum. The magnet integrated into the bucket rearside slides along the reed switch mounted in the flow gauge's frame. The magnetic field forces a contact closure in the reed switch. The latter can be recorded by one or two connected data loggers. The number of tips per time unit is a measure of the flow rate.
Material
PVC plastic and stainless steel
Resolutions
PVC bucket: 0.5 L or 1.0 L (selectable), up to 25 L/minute
Accuracy

| | |
| --- | --- |
| Flow Rate (L/min) | Error |
| 0.5 | -2 % |
| 1.0 | -6 % |
| 5.0 | -10 % |
| 10.0 | -14 % |
| 15.0 | -18 % |
| 20.0 | -20 % |
| 25.0 | -22 % |

Signal Out

Dual reed switch "
Protection: Mechanical: silicon rubber potting; Electrical: varistor surge protection "
Maximum capacity: 24 VDC (0.5 amp max) "
Resistance: initial contact resistance 0.1 Ω "
MTBF (Mean Time Between Failure): 108 to 109 tips

Flow Rate
Maximum 25 L/minute
Level
Bulls eye level adhered to stainless steel base
Environmental Conditions

Relative humidity: 0 to 95 % "
Temperature: -20 °C to +70 °

Dimensions & Mass

Base Length x Width: 390 x 235 mm (incl. mounting brackets) "
Height: 390 mm "
Weight: 6 kg (packed 7 kg)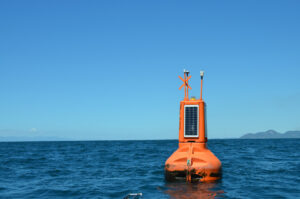 Lake Malawi (also known as Lake Nyasa and Lake Niassa) doubles as a Rift Valley Lake and one of the seven African Great Lakes. Due to its unique biodiversity, it's a great place to conduct limnological studies. Harvey Bootsma is a professor for the School of Freshwater Sciences at the University of Wisconsin-Milwaukee and has had an interest in limnology ever since he was a kid. Bootsma fondly recalls summer vacations to Georgian Bay, Ontario, "I probably spent as much time in the water as I did out of it." He continues, "I remember telling myself, 'I'm going to get a job where I can stay here all the time.'" While Harvey didn't end up working on Georgian Bay, he was offered a job working on Lake Malawi. He continued working there while completing his Ph.D.
Read More