Fall 2016 Environmental Monitor Goes To Print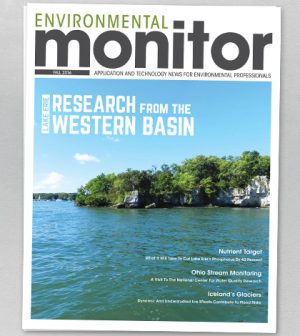 The Fall 2016 Environmental Monitor is running off the press and mailing to subscribers this week. Like other quarterly editions we put together, this one showcases some of our best coverage from the past few months and adds new photos, graphics and updated stories.
Whenever possible, we like to pull together a cohesive theme for our print editions. Western Lake Erie was an easy choice this go-around. Thankfully the 2016 algal bloom wasn't as bad as others have been, but it's not hard to see that work to solve the algae problem is far from over. Our Fall 2016 edition zeroes in on a few of the prominent projects underway, with an eye toward connecting them in a streamlined section.
This includes a look at several studies that consider what it will take to reach the goal of reducing phosphorus entering the lake by 40 percent as well as associated costs. We talk with Ohio Sea Grant's Chris Winslow for our industry profile piece. And we also stop by the National Center for Water Quality Research at Heidelberg University, where investigators oversee 18 monitoring stations that gather stream data used by Lake Erie modelers near and far.
We use our infographic this edition to both introduce our western Lake Erie coverage and to get folks up to speed on some of its recent issues. So in addition to including info on algal blooms, we've added a map of data buoys around the lake and displayed some of the dynamics that make it such a highly productive water body.
You'll also read about the High Lakes Aquatic Alliance Foundation's efforts to document the food web in Oregon's Suttle Lake to help salmon stocks there. And don't miss work by scientists at Western Kentucky University to dissect glaciers in Iceland, some of the most dynamic — yet understudied — glaciers on Earth.
A few other noteworthy spreads in our Fall 2016 Environmental Monitor include an update on the greenhouse gases coming off Wisconsin's Lake Mendota. There's also a look at how scientists with the U.S. Geological Survey in Missouri are trying to learn more about endangered pallid sturgeon recruitment. Another spread takes readers to the Yukon River Delta, where the pace of permafrost fires has picked up. We also talk with scientists on the ground in Chile as they document where the Salar de Atacama salt flat, an important source of lithium worldwide, gets most of its water.
We've rounded up some of the latest equipment in our Monitoring Gear section. And make sure to check out our latest comic and crossword, just for fun. You might also be able to use a one-time discount code, printed below our staff list, to save on your next order from fondriest.com.
As always, it's our pleasure to bring you the latest on advancements, trends and ongoing projects in the environmental monitoring field. Thanks for reading and make sure to stay tuned as we continue to bring you more exciting stories in the future.
Sign up for a free subscription to the Environmental Monitor here. If you'd like to peruse some of our past editions, check out our print archive.