Narragansett Nature: Remote NERR is a leader in salt marsh stressor studies, crab studies and contributions to Rhode Island environmental policies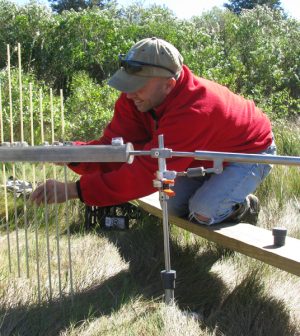 Dr. Kenny Raposa using a marsh surface elevation table to measure marsh accretion, part of marsh sentinel site program. (Credit: NBNERR staff)
Unique among the 29 National Estuarine Research Reserves (NERRS), Narragansett Bay National Estuarine Research Reserve (NBNERR) is made up of four islands: Prudence, Patience, Hope and Dyer. Protecting about 4,400 acres of land and water, NBNERR is a great place to see a variety of coastal habitats. There are upland maritime forests, coastal pine barrens, sandy beaches, cobble shorelines, salt marshes and open grasslands. NBNERR also has excellent hiking, fishing, clamming and bird watching. "If you want to see us, though, you'll need to hop on a ferry," says Bob Stankelis, NBNERR Reserve Manager. "Or you'll have to take a boat. We're not that easy to get to. But to be honest, that's one of the big things residents here like about it: its remoteness."
Residents are few in this Rhode Island nature reserve. There are also few tourists and researchers, and the development of the area is minimal. Not surprisingly, the small human footprint has allowed the wilderness and wildlife to flourish.
Bob Stankelis has worked at NBNERR since 2005. Kenny Raposa, NBNERR Research Coordinator, has worked at the NERR since 2000. They have both watched as the NERR has retained its remote, wild character but also changed over time. "We collect data using the System Wide Monitoring Program (SWMP) protocols that other NERRS use," says Raposa. "But we do some other monitoring that sets us apart, such as salt marsh stressor research. We were actually one of the first NERR sites to conduct salt marsh stressor research. Before we started, there just weren't many good datasets that showed how salt marshes respond to climate changes and other environmental stressors."
In terms of SWMP abiotic data, NBNERR researchers gather information on water quality such as: dissolved oxygen, conductivity, pH, salinity, chlorophyll fluorescence and turbidity. Data are taken every 15 minutes using YSI EXO2 sondes, which are all upgrades from the previously used YSI 6600 sondes. There are four water quality monitoring stations at NBNERR: Potter Cove, Nag Creek, T-Wharf Surface and T-Wharf Bottom. Two sondes are used per station, for a total of eight sondes. "Sondes stay out longer during winter when they do not foul as quickly," says Stankelis. "They are often out for a month, but sometimes just for a couple weeks, depending on conditions. We have definitely seen that the EXO2s have been giving us better accuracy and better data over a longer period than the YSI 6600 sondes." Abiotic data have been collected at NBNERR since 1995.
In addition to these data, since 2002 the researchers have been performing a complementary nutrient study using water samples that are gathered monthly and analyzed at the lab. The nutrient sampling includes monthly grab sampling at all four water quality monitoring stations and diel sampling (24-hour sampling that includes a full day and night cycle) at a single site monthly. All grab and diel samples are analyzed for ammonia, nitrite, nitrate, phosphates, silicates and chlorophyll a.
Weather monitoring, also part of SWMP, has been conducted since 2001 from the weather station on Prudence Island. Data on wind speed and direction, barometric pressure, air temperature, relative humidity, photosynthetically active radiation (PAR) and precipitation are collected every 15 minutes.
It's the additional research done at NBNERR; however, that really sets it apart. "The salt marsh stressor monitoring was pioneering work," says Raposa. "We use a sentinel site and we collect a wide suite of data. For about ten years, we've been looking at how salt marshes respond to sea level rise and to other environmental stressors." Additional salt marsh research projects have included a before-after-control-impact field experiment to quantify the effects of excavating new drainage channels to alleviate marsh waterlogging, a multi-year collaborative research project with EPA in Narragansett, RI to better understand causes and effects of expanding crab populations on RI marshes and a multi-reserve collaboration to develop a new tool for quantifying and comparing relative marsh resilience to sea-level rise. "The national scale of the sentinel sites allows us to look at marsh resilience across the country," Raposa emphasizes.
Crab monitoring has also been a focus at NBNERR. "We've seen rapid increases in crabs, and we're not alone," says Raposa. "New England, Maine and California, all over the country, sea levels have been rising and that has helped crab populations. The crabs do better." Due to the national scale of the NERRS sentinel site data, it is possible to see these national trends for crabs.
Raposa also wanted to draw attention to specific crab research efforts that have been made possible only through NERRS cooperation. "We were able to get data in 2017 from 14 reserves across the country for crab burrow counts and pitfall traps. We're hoping to have the draft paper by fall," he says. Recently, Environmental Monitor did a feature on Sapelo Island NERR, one of the participating reserves.
"Generally, blue crabs have been migrating North as temperatures warm," says Raposa. "Other species, such as marsh fiddler crabs, Uca pugnax, also have been migrating to higher ground within the same latitude." A challenge with doing crab research is the lack of good data to compare current data against. Sometimes no quantitative data for the crabs exist. "For example, look at burrow counts," says Raposa. "We believe there's been a significant increase in the crab population, but it's harder to show that if you don't have a lot of collected data to compare against. Cathleen Wigand did a study in 1998 in the same site where we did our study. She only saw three burrows. In 2016 we saw 40. So that would suggest a pretty significant increase. But of course, it would have been great if we could have had more data to compare our crab data with." Crab data are typically taken early summer to fall, generally June to September. "In 2015, we did a regional crab survey," says Raposa. "In 2017, we did a national survey."
While NBNERR is a remote reserve, its research is not done in isolation. "It's incredibly important to note we are working with partners," says Stankelis. In addition to the mutual benefits NBNERR gives and receives from other NERRS, local Rhode Island organizations actively collaborate with the NBNERR to help inform local environmental decisions. "Our data helps organizations like the Rhode Island Department of Environmental Management, Narragansett Bay Commission and the Coastal Resources Management Council decide what courses of action to take when environmental issues are being discussed."
NBNERR has eight full-time employees and one research intern, who typically serves for six months as well as two seasonal naturalists who assist with educational programming. "Dr. Daisy Durant focuses on the abiotic part of SWMP at NBNERR, Kenny focuses on the salt marsh monitoring and Robin Weber's focus is the coastal stewardship," says Stankelis.
In his time at NBNERR, Stankelis has noticed some changes in the Rhode Island reserve. "We've seen climate change impacts across the board," he observes. "The sea level rise has been very evident. The water keeps getting higher and higher. We've definitely seen vegetation changes and structural changes. We've also seen changes in precipitation. It also seems like changes have been accelerating." Raposa agrees. He notes other changes as well. "We've seen reserve system growth. The NERRS system has expanded. NBNERR is recognized as a leader. So those have been positive changes. But yes, we've not only seen effects of climate change, but also that sea level rise is accelerating."
Raposa sees many reasons to be positive. "We're glad we have the NERRS program. It gives us flexibility and resources that many organizations don't have. We can take advantage of many opportunities."
Stankelis adds, "Something I've noticed about working at the reserve and in Rhode Island is that people here are passionate about protecting the shorelines and the environment. They're passionate about preserving local property and are willing to put money and time into those efforts."
Reflecting on his career at NBNERR, Raposa is surprised. "I'm surprised I'm still here," he laughs. "Not everyone gets to spend their career studying salt marshes. That's what I've always worked on. I graduated from the University of Rhode Island's Graduate School of Oceanography, and I've always focused on salt marshes."
"I'm from Connecticut," says Stankelis. "I like how people here in Rhode Island really care about our reserve. I'm grateful to work here."
"We're a small state," Raposa adds. "It's fun to work with the people here in Rhode Island. It's small enough that we all know each other. I love the reserve and the people here."
Top image: Dr. Kenny Raposa using a marsh surface elevation table to measure marsh accretion, part of marsh sentinel site program. (Credit: NBNERR staff)