YSI EXO2 Multi-Parameter Water Quality Sonde
The YSI EXO2 sonde includes six sensor ports (sensors sold separately) and a central anti-fouling wiper option.
Features
Titanium sensors with wet-mateable, universal sensor ports
Biofouling protection with central wiper brush and copper-alloy accessories
Smart QC automatically checks for faults and errors to ensure successful deployments
Fondriest Exclusives
Expedited repair and warranty service
Lifetime technical support
Modern and Efficient Design
The YSI EXO2 represents an advanced sonde platform that offers a wide range of capabilities to those dedicated to monitoring natural aquatic environments such as oceans, estuaries, rivers, lakes, and groundwater. With a highly efficient power management platform, robust construction, and chemistry-free anti-fouling system, The EXO2 allows accurate data collection for up to 90 days between service intervals.
Multi-Port Water Quality Sonde
Temperature
Conductivity
Depth
Dissolved oxygen
pH
ORP
Total algae (phycocyanin or phycoerythrin along with chlorophyll)
Turbidity
Fluorescent dissolved organic matter (fDOM)
Rhodamine WT
UV nitrate
ISE ammonium
ISE nitrate
ISE chloride
Outputs Four Calculated Parameters
Salinity
Specific conductance
Total dissolved solids (TDS)
Total suspended solids (TSS)
Onboard Signal Processing and Memory
All EXO sensors are digital sensors with onboard signal processing and memory. Built-in sensor diagnostic and calibration data allow users to calibrate multiple sensors in one sonde and distribute them to various other sondes in the field. Wet-mateable connectors allow for swaps in wet conditions, while active port monitoring automatically detects each sensor and verifies operation.
EXO2 Specifications
Diameter: 7.62cm (3.00 in)
Length: 71.10cm (28.00 in)
Peripheral Ports: 1 power communication port; 1 auxiliary port for third-party sensors (future functionality; not active yet)
Sensor Ports: 7 (6 ports available when central wiper used)
3-Year Warranty: Sonde; handheld
2-Year Warranty: Cables; conductivity/temperature and optical sensors; electronics base for pH, pH/ORP, ammonium, chloride, and nitrate sensors
1-Year Warranty: Optical DO cap and replaceable reagent modules for pH and pH/ORP sensors
3-Month Warranty: Replaceable reagent modules for ammonium, chloride, and nitrate sensors
Weight: 3.60kg (7.90 lbs)

General Sonde Specifications
Battery Life: 90 days**
Computer Interface: YSIP via USB Signal Output Adapter (SOA) and Bluetooth
Output Options: RS-232 & SDI-12 via DCP-SOA; Modbus & RS-485 via Modbus-SOA
Data Memory: 512 MB total memory; >1,000,000 Logged readings
Depth Rating: 0 to 250m (0 to 820 ft)
Sample Rate: Up to 4 Hz
Operating Temperature: -5 to +50°C (23 to 122°F)
Storage Temperature: -20 to +80°C (-4 to 176°F)

**Typically 90 days at 20˚C at 15-minute logging interval; temperature/conductivity, pH/ORP, DO, and turbidity sensors installed on EXO1; or temperature/conductivity, pH/ORP, DO, total algae, and turbidity sensors installed with central wiper that rotates once per logging interval on EXO2. Battery life is heavily dependent on sensor configuration.
(1) EXO2 sonde
(1) Probe guard
(1) Calibration cup
(1) Tool kit
(4) Port plugs
(4) D-cell alkaline batteries
(1) USB drive loaded with manual & KOR Software
Questions & Answers
Can the sonde be used in both fresh and salt water applications?
Yes, the sonde is rated for salt water applications with the exception of the ammonium, nitrate, and chloride sensors that are freshwater only.
How often do the sensors need calibrated?
This is highly dependent on the deployment location, but re-calibration intervals typical range from 2 to 8 weeks.
Are the EXO Series sondes compatible with 6-Series sensors?
No, only EXO sensors can be used with EXO sondes.
How many sondes can be daisy-chained at once?
Up to three EXO2 sondes can be daisy-chained together using the Auxiliary port.
Can EXO1/2 sondes communicate via SDI-12?
EXO1 and EXO2 sondes support SDI-12 communication through the use of the DCP adapter. EXO3 sondes have built-in SDI-12 support, so the DCP adapter is not necessary with EXO3.
How deep can I deploy my EXO sonde?
All EXO sensors have a depth rating of 250m (820ft.) except shallow and medium depth sensors and ISEs.
What is the battery life on my EXO2?
While the battery life depends on the sensor configuration, the EXO2 can provide 90 days of logging at 15-minute intervals with temperature/conductivity, pH/ORP, DO, total algae, and turbidity sensors installed and the central wiper that rotates once per logging interval.
Will my EXO2 Sonde be the same size as my EXO1 Sonde?
No, the EXO2 is slightly larger to accomodate the added sensor ports. The EXO2 sonde is 71.10cm in length and 7.62cm in diameter while the EXO1 Sonde is 64.77cm in length and 4.7cm in diameter.
Can this sonde be powered by the EXO Handheld Display?
Yes, the EXO Handheld Display can power any of the EXO sondes for up to 20 hours on a single charge.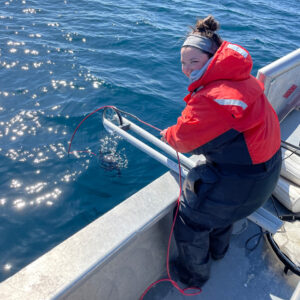 From crystal clear alpine lakes to muddy rivers and boggy swamps, water transparency is an easily observable water quality parameter to anyone who takes a few moments to peer into the (sometimes) murky depths. Water transparency varies dramatically based on the location of bodies of water among different watershed environments, but it can also change quickly due to a variety of internal and external factors. 
 
 At Miami University (OH), the Global Change Limnology Lab explores the many ways that water transparency impacts aquatic ecosystems. Operational for nearly 20 years, the lab trains undergraduate and graduate students and has conducted work from the midwest Great Lakes to Alaska, South America and New Zealand. 
 
 The Global Change Limnology Lab, headed by Dr.
Read More