NexSens T-Node FR Thermistor String
The NexSens T-Node FR thermistor string provides high precision temperature measurement in an addressable and connectorized assembly.
Features
Build multi-point temperature strings by connecting T-Nodes to underwater cables
+/- 0.075 C accuracy for precision temperature measurements
Includes sensorBUS for connecting other smart sensors
Fondriest Exclusives
Free ground shipping
Expedited repair and warranty service
Lifetime technical support
The NexSens T-Node FR Thermistor String provides high accuracy temperature data in a connectorized and addressable architecture for water quality profiling. Each node features an integral titanium thermistor secured and epoxied in a protective housing for underwater deployments. The nodes are connected in-series using marine-grade UW Cables with braided Kevlar core and double O-ring seals.

Each T-Node FR sensor is accurate to +/-0.075 C for high-precision measurements. The exposed titanium thermistor makes direct contact with water, allowing readings to stabilize within 60 seconds. Temperature data is transmitted on a RS-485 Modbus RTU string bus for integration with data loggers and SCADA systems. The string is powered by 4-28 VDC for operation on a 12 or 24 VDC power supply.

Mating UW Cables are available in lengths from 0.5m to 50m with a maximum 1,219 meters (4,000 feet) or 250 nodes. Strings terminate in a NexSens UW plug and receptacle connector, allowing additional sections or sensors to be added as required. Optional accessories include water quality sensors, pressure sensors, signal splitters, cable clamps, stainless steel mooring line, and communication adapters.
Sensor: Thermistor
Range: 0 to 45 C (32 to 113 F)
Accuracy: +/-0.075 C
Resolution: 0.01 C
T90 Response Time: 60 seconds
Refresh Rate: 2 seconds
Maximum Sensors: 250
Maximum Length: 1219m (4000 ft.)
Maximum Depth: 200m (656 ft.)
Communications: RS-485 Modbus RTU
Power Requirement: 4-28 VDC
Current Draw Per Node: 1.3mA active; 0.35mA sleep; 0.05mA deep sleep
Connection Seal: Double o-ring, gland and face seal
Connector: 8 pin, sensorBUS
Dimensions: 13.46cm L x 3.56cm Dia. (5.3" L x 1.4" Dia.)
Questions & Answers
Do the sensors log internally?
No, the sensors must be connected to a data logger that supports RS-485 Modbus RTU.
What is the temperature range of these sensors?
The temperature range is 0 to 45 C (32 to 113 F)
How are these sensors deployed?
The sensors are connected to each other via UW cables of user-defined lengths. The custom string is attached to a mooring line using TS-Clamps.
Can other sensors be deployed with the temperature string?
Yes, using a UW-2W sensor splitter, other SDI-12 and/or RS-485 water quality sensors can be integrated along the sensor string.
What is the response time of the thermistors?
The T90 response time is approximately 60 seconds.
What is depth rating of the sensor and connector?
The depth rating of the T-Node FR sensor and connector is 200 ft.
What is the maximum length I can have?
4000 ft or 250 nodes (sensors) is the maximum length of a T-Node FR thermistor chain. Please note that the maximum depth of the sensors is 200 ft.
How often should I calibrate my T-Node FR?
Although T-Node FR sensors are capable of holding the initial factory calibration indefinitely, NexSens recommends that temperature strings be sent in for a factory recalibration every three years to ensure maximum sensor performance.
What is RS-485 Modbus RTU?
RS-485 Modbus RTU is a digital communications protocol in which the sensor outputs data. Standardizing how the data is sent from the sensor makes the integration into a data logger or PLC much more straightforward. RS-485 Modbus RTU is an addressable protocol that offers significantly more sensor capacity than other protocols such as SDI-12. This allows the T-Node FR and TS210 temperature strings to accommodate up to 250 sensors along a maximum of 4000 feet of cable. Most data loggers and programmable logic controllers (PLCs) support Modbus.
For what applications is the T-Node FR optimized?
The T-Node FR is used in a variety of applications from water storage tanks to temperature profiling in lakes and reservoirs. In lakes and reservoirs, temperature strings help identify stratification and lake turnover. They are also used in selective withdrawal dams to determine the optimal location to withdraw water. A single temperature node can be used for basic water or ambient air temperature monitoring.
What are common sensors to add onto a T-Node FR string?
Dissolved oxygen sensors are frequently added to thermistor strings to help identify hypoxic zones in lakes. A two-way sensor splitter can replace any temperature node in the string and allow for integration of a third party sensor that outputs data over SDI-12 or RS-485 Modbus RTU.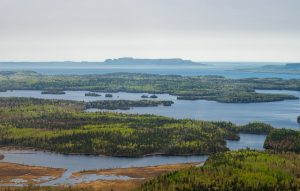 Recent research from a University of Guelph (U of G) team reveals that warmer temperatures caused by climate change are forcing species to alter their behavior, causing food webs in Ontario lakes to transform. As temperatures warm, larger species hunt new prey in deeper waters, changing the ways nutrients and energy flow in lakes and triggering a "rewiring" of food webs. 
 
 Dr. Timothy Bartley , study lead author and a post-doctoral researcher in the U of G's Department of Integrative Biology , spoke to EM about the work . 
 
 "I got started on this when I first began graduate school and joined an ongoing project, which was a collaboration with the Ontario Ministry of Natural Resources and Forestry ," explains Dr. Bartley.
Read More