NexSens TS210 Thermistor String
The NexSens TS210 Thermistor String provides high precision temperature measurements for profiling in lakes, streams, and coastal waters.
Features
Integrated thermistor with standard or custom spacing
+/- 0.075 C accuracy for precision temperature measurements
Marine-grade cable with braided Kevlar core
Fondriest Exclusives
Expedited repair and warranty service
Lifetime technical support
The NexSens TS210 Thermistor String provides high accuracy temperature data for profiling in lakes, streams, and coastal waters. It features an integral titanium thermistor secured and epoxied in a protective housing for underwater deployments. A marine-grade cable with braided Kevlar core help ensure reliability in extreme environments.

Each sensor is accurate to +/-0.075 C for high-precision measurements. The exposed titanium thermistor makes direct contact with water, allowing readings to stabilize within 60 seconds. Temperature data is transmitted on a RS-485 Modbus RTU string bus for integration with data loggers and SCADA systems. The string is powered by 4-28 VDC for operation on a 12 or 24 VDC power supply.

TS210 strings are available standard with 1m spacing or at custom intervals to meet project requirements. Cable lengths are available up to 1,219 meters (4,000 feet) with a maximum 250 nodes. Strings terminate in a NexSens UW plug and receptacle connector, allowing additional sections or sensors to be added as required. Optional accessories include a bottom pressure sensor, cable clamps, stainless steel mooring line, and communication adapters.
Sensor: Thermistor
Range: 0 to 45 C (32 to 113 F)
Accuracy: +/-0.075 C
Resolution: 0.01 C
T90 Response Time: 60 seconds
Refresh Rate: 2 seconds
Maximum Sensors: 250
Maximum Length: 1219m (4000 ft.)
Maximum Depth: 200m (656 ft.)
Communications: RS-485 Modbus RTU
Power Requirement: 4-28 VDC
Current Draw Per Node: 1.3mA active; 0.35mA sleep; 0.05mA deep sleep
Connector: 8 pin, sensorBUS
Dimensions: 7.62cm L x 3.56cm Dia. (3.0" L x 1.4" Dia.)
Questions & Answers
How is the sensor string installed?
The thermistor string is most commonly deployed on floating platforms such as data buoys. It can also be suspended in water storage tanks, deployed horizontally to measure stream temperatures, and more.
How accurate are the sensors on the string?
The thermistor string accuracy is ±0.075℃
How much assembly is required for the TS210?
It is recommended that thermistor string be clamped in place along a suspension line when deployed. We offer thermistor string clamps and vinyl-coated stainless steel mooring lines as optional accessories.
What is the difference between the T-Node FR and the TS210?
The TS210 is a more affordable and generally more robust temperature string, as the cable is epoxied to both ends of the thermistor in place of connectors. The connectors on either end of the T-Node FR sensor allows the end user to add, remove, and reconfigure the string themselves, making it a more flexible solution.
What are the maintenance requirements of the TS210 temperature string?
Temperature strings require minimal maintenance. Remove any bio-fouling with a cloth or soft bristled brush and soapy water. NexSens temperature strings hold their calibration for the life of the sensor, so they do not need to be recalibrated. In the offseason, sensor strings should be stored in a cool, dry place.
Will freezing conditions damage a TS210 sensor?
NexSens does not recommend deploying the thermistor string in any conditions that pose a risk of freezing, as it is outside of the measurement range and can be detrimental to the sensor. The TS210 accurately reads water temperatures no lower than 32° F (0° C), and the PVC housing can crack and fail from the stress of freezing and thawing.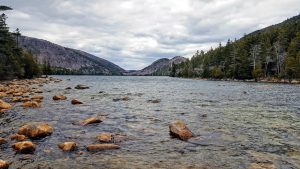 Formed by a glacier, Jordan Pond is among Maine's clearest, most beautiful bodies of water. It's also a critical freshwater resource, and watchful eyes are protecting it. 
 
 EM spoke with Dr. Rachel Fowler, Friends of Acadia's aquatic scientist, about her work monitoring Jordan Pond. A postdoctoral research scientist at the University of Maine, she is a member of a partnership among the National Park Service, the University of Maine Climate Change Institute, and Friends of Acadia that began deploying the Jordan Pond buoy in 2013. Canon provided the initial support for the project. 
 
 Friends of Acadia is a nonprofit organization that supports different projects in the park.
Read More