RainWise Rainew Rainfall Gauges
The Rainew rainfall gauge tracks current and accumulated rainfall with cabled connection to the display counter.
Features
Single counter tracks up to 9.99" of rainfall and can be reset with the push of a button
Dual counter allows you to track both individual events and an annual running total
8" collector meets NWS specifications for statistical accuracy
Fondriest Exclusives
Expedited repair and warranty service
Lifetime technical support
The Tipping Bucket Rain Gauge has been a corner stone of the RainWise product family since they took out the patent for it in 1976. The self-emptying tipping bucket design is now an industry standard as this simple, accurate and durable rain gauge can be mounted anywhere that rainfall needs to be recorded.

The RainWise Tipping Bucket Rain Gauge has an extra large 8" diameter collector that meets the National Weather Service specifications for statistical accuracy, and every tip of the bucket is hand calibrated to count one hundredth of an inch of rainfall.

The rain gauge includes a 60 ft. cabled connection to an indoor display that provides an economical solution to the annual collection and recording of rainfall data.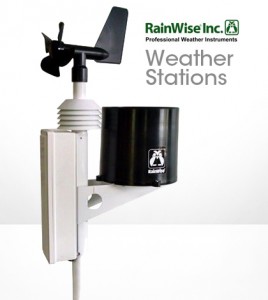 RainWise is one of the oldest players in the weather monitoring market, having been around since 1974. For reference, that's only 4 years younger than the U.S. Environmental Protection Agency. 
 
Through the years this Maine-based company has logged several advancements in the field starting with RainWise's very first product, the tipping bucket rain gauge, which is now an industry standard. Since then they have introduced the first consumer digital weather station and the first wireless consumer weather station among other pioneering innovations. 
 
With more than 40 years of experience, the products that RainWise produces today are just as inspired.
Read More