Seametrics CT2X Conductivity Loggers
The Seametrics CT2X is a conductivity and temperature sensor with built-in data logging and optional water level sensor.
Features
Measures conductivity, temperature, and water level (optional)
Internal data logger for 349,000 records
Optional internal AA batteries operate for ~1 year at 15-minute log interval
Fondriest Exclusives
Free ground shipping
Expedited repair and warranty service
Lifetime technical support
Overview
The Seametrics CT2X is a conductivity and temperature sensor with built-in data logging. Incorporating a 4-pole epoxy and graphite electrode cell, it is extremely durable and resistant to data interferences — making it excellent for use in rugged field conditions.

Extensive Control
The CT2X also comes with Seametrics' powerful, easy-to-use Aqua4Plus and Aqua4Plus Lite software, affording the user extensive control, including real-time monitoring, flexible programming, and versatile data display options.

Benefits
Measures conductivity, total dissolved solids, and temperature
Ranges from 10 microsiemens/cm to 100,000 microsiemens/cm
Pressure and level option available
In-field calibration utilities
Narrow 0.75″ diameter, 12.5″ or 16″ length (depending on version)
Linear and nLFn temperature compensation
Up to 349,000 records in non-volatile memory
316 stainless steel, fluoropolymer, and PTFE construction (titanium optional)
Digital industry standard RS485 interface
Available with a variety of cable options—including polyethylene, polyurethane, and FEP Teflon
Modbus and SDI-12 protocols available
Easy export to spreadsheets and databases
Questions & Answers
How is the CT2X powered?
The CT2X is powered by two, replaceable lithium 'AA' batteries for up to 12 months (15 minute sample interval) or with a 9-15 VDC external power supply.
How is the conductivity reading compensated for temperature?
The logger uses correction factors to compensate for changes in conductivity readings with temperature. Typically a 2%/degree C change is seen.
How is data obtained from the logger?
Using a USB to RS-485 communication cable, the logger is automatically detected by a PC running AquaPlus 2.0. From the dashboard users can download data and change settings.
How are the Seametrics CT2X loggers deployed/installed in a 2" well?
These loggers can be secured to any anchor point via the cable strain relief kits. The logger will be submerged, with the cable extending outside the well, connecting to external devices. More information on do's and don'ts for deployment can be found on page 6 of the manual: https://www.fondriest.com/pdf/seametrics_pt2x_manual.pdf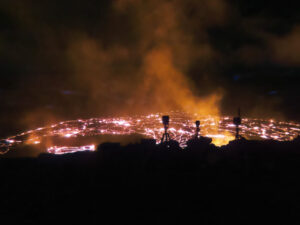 The eight main Hawaiian Islands are made up of 15 volcanoes, six of which are active as of 2023 . Many locals live on or near an active volcano, making the monitoring and understanding of volcanic activity a core issue of public safety on the islands. Organizations like the Hawaiian Volcano Observatory (HVO) have spent decades monitoring the islands' volcanoes to protect the public, develop a deeper understanding of the islands' volcanos and forecast eruptions whenever possible. 
 
Even those who live away from edifices like Mauna Loa often have connections to the people living near the volcano.
Read More