SonTek FlowTracker2 ADV Probes
The FlowTracker2 ADV probe can be used in the field with the handheld display, or it can be used in the lab with direct PC connection.
Features
Versatile probe can be used in the lab or field
Optional integrated pressure sensor for depth data
Available extension cables in 1.5m, 3.5m, and 8.5m lengths
Fondriest Exclusives
Expedited repair and warranty service
Lifetime technical support
For decades, the Acoustic Doppler Velocimeter (ADV) has been the preferred instrument for precisely-defined sampling of water velocity across a wide range of environments. The FlowTracker2 ADV utilizes SonTek's continuing innovation in ADV platforms to offer a laboratory version of the world's best-selling ADV, the FlowTracker2. For the first time, the ADV's acoustic probe and processing electronics are housed in one small, lightweight, easily maneuverable unit, and the acoustic head has an optional, integrated pressure (depth) sensor.

Depth data are even correctable for dynamic pressure (Bernoulli) and altitude effects using SonTek's patent-pending method. Setup of the probe and PC software is simple and mistake-proof. Just connect the cables between the probe and your laboratory PC or laptop, check a few settings, and press the "Start Logging" button. Data are output directly to a .CSV file that is immediately ready for use in the project, model, or database as required.

In three simple steps, the FlowTracker2 ADV delivers robust, high-quality data right out of the box. The software interface writes data directly to a *.CSV file which can then be further processed, analyzed, or imported into other programs according to your project needs.
Probe Specifications
Velocity Range
±0.001 to 4.0 m/s (0.003 to 13 ft/s)
Velocity Resolution
0.0001 m/s (0.0003 ft/s)
Velocity Accuracy
+/1% of measured velocity, +/- 0.25cm/s
Acoustic Frequency
10.0 MHz
Sampling Volume Location
10 cm (3.93 in) from the center transducer
Minimum Depth
0.02 m (0.79 in)
Depth Measurement Range
0 to 10m (0 to 32.81ft)
Depth Measurement Resolution
0.001m (0.003ft)
Depth Sensor Accuracy
+/- 0.1% of FS (temperature compensated over full operating range)
 
+/- 0.05% Static (steady-state at 25°C)
 
Additionally compensated for real-time
water velocity, temperature, salinity, and altitude.
Temperature Sensor
Resolution: 0.01° C, Accuracy: 0.1° C
Tilt Sensor
Resolution: 0.001°, Accuracy: 1.0° 
Communication Protocol
RS-232
Operating/Storage Temperature
-20° C to 50° C (-4° F to 122° F)
Probe Head Dimensions
(L)13.3 cm (5.22 in)
(W) 6.1 cm (2.39 in)
(H) 2.3 cm (0.90 in)
Standard Cable Length
1.5 m (4.92 ft)
Weight in Air
0.90 kg (1.98 lbs)
Weight in Water
0.30 kg (0.66 lbs)
Questions & Answers
What is the purpose of the optional depth sensor?
During a discharge measurement, a typical user will read the water depth from wading rod markings. With a the integrated depth sensor, water depth can be measured automatically, reducing human error in the field and providing increased accuracy.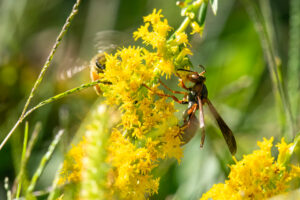 Pollinators of all shapes and sizes are vital to ecosystems around the world. From the wide array of food people eat to the diversity of life around the planet, life would be very different without them. Pollinators are organisms that help carry pollen from one plant to another, and over 350,000 species can be found worldwide, according to The California Department of Fish and Wildlife . With the strong relationship between plants and pollinators, losing either would have detrimental impacts on ecosystems. 
 
 Over millions of years, both plants and pollinators have evolved alongside each other and formed unique adaptations that allow them to work together, expediting and enhancing the process of pollination.
Read More