SonTek Torrent Board v7 Floating Platform
The Torrent Board v7 is a high speed, low drag floating platform designed for use with the SonTek RiverSurveyor M9 and S5 ADCP systems.
Features
Fits the RiverSurveyor S5/M9 and HydroSurveyor systems
Compatible with SonTek GPS and PCM solutions
Suitable for discharge measurements in water velocities up to 5 m/s
Fondriest Exclusives
Expedited repair and warranty service
Lifetime technical support
The Torrent Board was developed by Xylem in conjunction with a team of SonTek RiverSurveyor M9 and S5 users, consisting of hydrologists and surfboard designers. The Torrent Board has been designed for use across the velocity ranges including high velocity conditions.

The low drag, deep V keel and double concave of the board enables any entrapped air to pass either side of the instrument minimizing aeration.

The Torrent Board has been successfully deployed in the field, in velocities up to 4m/s and yet still performs in really low velocities. It also comes with a drag anchor to assist manoeuvring in difficult low velocity and eddy situations.

The Torrent Board is supplied with all fixings and a handy soft case with rucksack-style straps to easily transport the board and RiverSurveyor system across rough terrain with ease.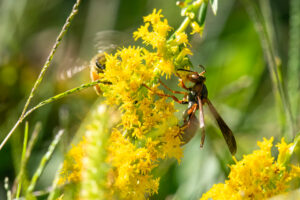 Pollinators of all shapes and sizes are vital to ecosystems around the world. From the wide array of food people eat to the diversity of life around the planet, life would be very different without them. Pollinators are organisms that help carry pollen from one plant to another, and over 350,000 species can be found worldwide, according to The California Department of Fish and Wildlife . With the strong relationship between plants and pollinators, losing either would have detrimental impacts on ecosystems. 
 
 Over millions of years, both plants and pollinators have evolved alongside each other and formed unique adaptations that allow them to work together, expediting and enhancing the process of pollination.
Read More