Stevens HydraGO Portable Soil Moisture System
The Stevens HydraGO portable soil moisture system makes soil spot sampling quick and easy. Instantly measure soil moisture, electrical conductivity, and temperature.
Features
Patented sensor instantly measures moisture, EC (salinity) and soil temperature
Integrated Bluetooth for easy operation with free smartphone app
Cost effective solution for portable on-the-go soil monitoring
Fondriest Exclusives
Free ground shipping
Expedited repair and warranty service
Lifetime technical support
Overview
The Stevens HydraGO can take soil measurements anywhere applications do not require a permanent soil monitoring system. Apple or Android devices communicate wirelessly with the HydraGO using Bluetooth.

Application Compatible
Simply insert the probe into the soil and tap the "Sample" button in the HydraMon app. The app will display soil moisture content, temperature, conductivity, and dielectric permittivity on-screen for immediate viewing. The date and time of each measurement are recorded along with the soil measurement data and the GPS location measured by the smartphone's GPS receiver. All data can be saved and emailed as a CSV file for analysis in Excel. Notes and location names can be added to the data records.

All-Day Testing Ease
The HydraGO features a rugged, engineered resin housing with a rechargeable battery suitable for a full day's heavy use. It comes with a detachable ergonomic pole so it can be inserted without bending over.
Questions & Answers
How long is the handle and probe on the Stevens HydraGO soil moisture system?
The HydraGO system has an extendable handle allowing for lengths from 70cm to 153 cm, including the probe body.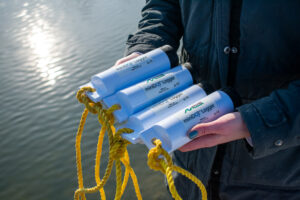 The PME miniDOT Logger is a compact data logger that measures dissolved oxygen (DO) and temperature down to 100 meters in depth. The unit can also endure low water temperatures and is durable underneath an ice layer, which is excellent for gathering essential winter water quality data that is lacking from using less robust equipment. The high depth rating and ability to withstand frigid temperatures make the PME a reliable device that is deployable in dramatically different environments, such as a monitoring well, an inland lake or an underwater cave. 
 
The logger itself features an optical DO sensor, temperature sensor, two AA lithium batteries and a micro SD memory card.
Read More