Stevens HydraGO Portable Soil Moisture System
The Stevens HydraGO portable soil moisture system makes soil spot sampling quick and easy. Instantly measure soil moisture, electrical conductivity, and temperature.
Features
Patented sensor instantly measures moisture, EC (salinity) and soil temperature
Integrated Bluetooth for easy operation with free smartphone app
Cost effective solution for portable on-the-go soil monitoring
Usually ships in 1-2 weeks
Image
Part#
Product Description
Price
Stock
Order
93633-007
HydraGO portable soil moisture system

Usually ships in 1-2 weeks
93633-007
HydraGO portable soil moisture system
Usually ships in 1-2 weeks
Take soil measurements anywhere for those applications not requiring a permanent soil monitoring system. Your Apple or Android device communicates wirelessly with the HydraGO using bluetooth.

Simply insert the probe into the soil, and tap the "Sample" button in the HydraMon app. The app will display soil moisture content, temperature, conductivity, and dielectric permittivity on-screen for immediate viewing. The date and time of each measurement is recorded along with the soil measurement data and the GPS location measured by your smartphone's GPS receiver.

All data can be saved and emailed as a .CSV file for analysis in Excel. Notes and location names can be added to the data records.

The HydraGO features a rugged, engineered resin housing that contains a rechargeable battery good for a full day's heavy use. It comes with a detachable ergonomic pole so it can be inserted without bending over.

HydraGO uses the same patented soil sensor as the HydraProbe.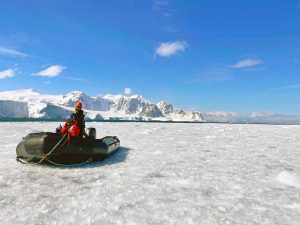 For Paul Savoy, sailing on the Nathaniel B. Palmer research vessel as part of the United States Antarctic Program (USAP) has been a dream come true, a "mountain top" for his career. "I grew up reading about the age of exploration, and the great polar explorers back in the day. Antarctica is one of the last remaining frontiers, along with the deep ocean and outer space. I was delighted to discover Antarctic research covers all three, with deep ocean research happening on the icebreakers and cosmological experiments at the South Pole. I've been applying for a job down here since I was 18. I got shortlisted a few times, but never actually got picked up until I was 32. Now I'm 35, and finally headed to the ice.
Read More