Thermo Orion Star T910 pH Titrators
The Thermo Scientific Orion T910 pH titrators are designed to increase your laboratory productivity by automating titrations.
Features
Offer easy-to-use navigation from setup to live titration analysis to data transfer
Showcase titrations, onscreen instructions and help menus on a large color graphic touchscreen display
Create and save up to ten user-defined methods
Stock
Drop Ships From

Manufacturer
Fondriest Exclusives
Free ground shipping
Expedited repair and warranty service
Lifetime technical support
Use the Orion Star T910 pH titrator for dedicated acid-base titrations including titratable acidity of juices and wines, acidity of food products, alkalinity of waters, acidity and alkalinity of consumer products, total acid number (TAN) and total base number (TBN). Titration techniques include equivalence point titrations and preset pH or mV endpoint titrations for versatile sample analysis. Pair the titrator option with any of the premium ROSS pH electrodes or select one of the preconfigured titrator and electrode kits for a bundled discount. The 8102BNUWP ROSS Ultra pH electrode and 927007MD stainless steel ATC temperature probe are ideal for most standard pH titrations including preset endpoint titrations that include temperature. The 8172BNWP ROSS Sure-Flow pH electrode is designed for challenging samples that can clog standard pH electrodes or that require a fast-flowing sleeve-type junction.
(1) T900 Series titrator
(1) 20mL burette
(1) Burette cover
(1) Electrode holder
(1) Stirrer probe
(1) Dispenser probe
(1) Tubing kit
(1) Desiccant tube
(1) Reagent bottle holder
(1) 1L plastic reagent bottle
(1) GL38 reagent bottle cap
(1) USB computer cable
(1) USB flash drive with user manual
(1) 110-240V power adapters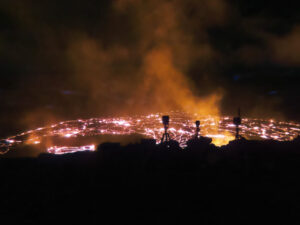 The eight main Hawaiian Islands are made up of 15 volcanoes, six of which are active as of 2023 . Many locals live on or near an active volcano, making the monitoring and understanding of volcanic activity a core issue of public safety on the islands. Organizations like the Hawaiian Volcano Observatory (HVO) have spent decades monitoring the islands' volcanoes to protect the public, develop a deeper understanding of the islands' volcanos and forecast eruptions whenever possible. 
 
Even those who live away from edifices like Mauna Loa often have connections to the people living near the volcano.
Read More