Turner Designs Cyclops-7F Submersible Sensors
The Turner Designs Cyclops-7F submersible sensor is a high performance and compact fluorometer designed for integration into any platform that supplies power and data logging.
Features
Interfaces easily with most data collection platforms using 0-5 VDC output
Very low power consumption allows for extended remote deployments
Interfaces with DataBank Handheld Data Logger and Cyclops-7 Logger
Fondriest Exclusives
Free ground shipping
Expedited repair and warranty service
Lifetime technical support
Overview
The Turner Designs Cyclops-7F submersible fluorometer sensors are designed for integration into remote data collection and telemetry platforms. The sensors offer a unique combination of performance and size, making them very attractive for freshwater, coastal, and oceanographic environments. Cyclops-7F sensors are configured and factory scaled for the specific analysis of turbidity, chlorophyll, phycocyanin, phycoerythrin, rhodamine dye, fluorescein dye, CDOM, crude oil, optical brighteners, PTSA dye, or tryptophan.
Durable
The Cyclops-7F sensor features a locking sleeve Impulse connector with cable options available from 2 feet to 50 meters. The rugged stainless steel construction is designed to withstand most environmental conditions. Common applications include turbidity dredge monitoring, algal bloom notification, and dye tracer studies.
Questions & Answers
When should I use a Shade Cap?
Turner Designs recommends use of the shade cap, as it provides a fixed distance for sample measurement and minimizes affects from ambient light. The Shade Cap also offers protection for the optics and prevents damage from deploying, recovering, or transporting the instrument, in fast-flowing environments, and/or from bottoming out in shallow environments.
What is the difference between the C-FLUOR and Cyclops-7F fluorometers?
C-FLUOR sensors come standard with a titanium housing and factory calibration. The depth rating is also improved to 2000m. C-FLUOR sensors have a single gain setting, while the Cyclops-7F has a wider linear range with three gain settings.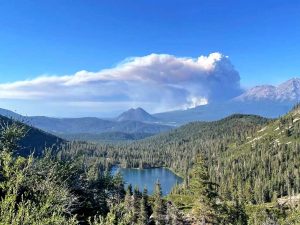 Wildfires have been big news the last couple of years. Australia's wildfires in 2019 and 2020 and the Amazon rainforest fires in 2021 made headlines around the world. The American west has had record-breaking burns in recent years, blanketing cities in dangerous amounts of smoke and sending haze across the continent to the east coast. 
 
While smoke has clear and apparent effects on the sky, new research finds it changed the ecology of Castle Lake, a freshwater lake in California, in 2018. 
 
 "There are some studies that have analyzed the effect of human health in respiration with the smoke of wildfire," said Facundo Scordo, a postdoctoral researcher at the Global Water Center of the University of Nevada—Reno.
Read More