YSI 2002 Galvanic Dissolved Oxygen Sensor
The YSI 2002 galvanic dissolved oxygen sensor provides instant and reliable DO readings. It includes the 5913 yellow 1.25 mil PE membrane kit.
Features
Galvanic sensors have no warm-up time and are immediately ready for calibration and use
Easily inserts into the probe module and cable assembly
Compatible with YSI 5912, 5913, or 5914 screw-on cap membranes
Fondriest Exclusives
Free ground shipping
Expedited repair and warranty service
Lifetime technical support
(1) YSI 2002 DO module
(1) 5913 cap membrane kit
(1) Instruction sheet
(1) Hex wrench
(1) Set screw
Questions & Answers
How does a Galvanic DO Sensor work?
In a Galvanic sensor, the cathode is silver and the anode is zinc. The two materials are dissimilar enough to self-polarize and reduce oxygen molecules without an applied voltage. This is similar to how a battery works. The system uses a meter to read the electrical signal and the signal is proportional to the amount of oxygen passing through the membrane.
Why can the Galvanic sensor be used immediately after it is powered on?
The Galvanic sensor contains silver and zinc. These two materials are different enough to self-polarize without added voltage. This allows them to be used immediately instead of waiting on the anode and cathode to polarize.
I am having trouble getting an accurate reading, what can I be doing incorrectly?
The steady-state sensor reduces oxygen, meaning it is flow dependent. The sensors require stirring or sample movement to produce accurate readings.
Is there a blue 2.0 mil cap available for the 2002 galvanic DO sensor?
Yes, part 605914, is a 2.0 mil cap that can be used with the 2002 galvanic dissolved oxygen sensor.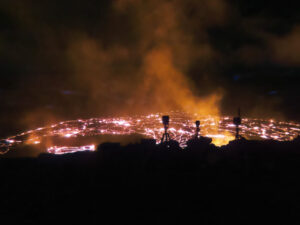 The eight main Hawaiian Islands are made up of 15 volcanoes, six of which are active as of 2023 . Many locals live on or near an active volcano, making the monitoring and understanding of volcanic activity a core issue of public safety on the islands. Organizations like the Hawaiian Volcano Observatory (HVO) have spent decades monitoring the islands' volcanoes to protect the public, develop a deeper understanding of the islands' volcanos and forecast eruptions whenever possible. 
 
Even those who live away from edifices like Mauna Loa often have connections to the people living near the volcano.
Read More