YSI 9500 Deluxe Photometer Kit
The YSI 9500 photometer adds additional capabilities, including internal memory for 500 sample sets and waterproof USB connection to a chosen PC.
Features
Rugged units are waterproof to IP67 specifications and run on standard AA batteries
Accuracy of +/-0.5% at 4% transmittance; +/-0.005 at 0.3 AU
Features automatic light wavelength selection for each of its pre-programmed test methods
Fondriest Exclusives
Free ground shipping
Expedited repair and warranty service
Lifetime technical support
Overview
The fully-featured YSI 9300 and 9500 portable photometers accurately analyze all the major inorganic constituents of water. They are rugged, fully waterproof, easy-to-use and provide quick, accurate test results.

Accurate
The photometric technology uses light to measure color changes in water samples treated with a reagent. They are accurate to +/-0.005 at 0.3 absorbency units (au) and resolution is 0.001au. The sample is simply placed in the unique adaptive cell holder and a button pressed. The cell holder automatically adjusts to various round tube sizes.

Flexible
The 9300 and 9500 feature automatic light wavelength selection for each of their pre-programmed test methods. They have easy-to-navigate menus and over 100 test choices, providing full flexibility. The software also remembers the most recent tests, making it even quicker to use next time.

Durable
Both units are sealed to IP67 specifications and run on standard AA batteries. The 9500 can be powered through the USB port from the computer, or via a standalone adapter. Each comes complete with a carry case and room to store the required reagents. Additionally, the 9500 can store up to 500 test results in its onboard memory, with a full audit trail of time, date, and results in chosen units. Once back at base, the test results are simply transferred to a PC by plugging it into the USB port and using the drag and drop file transfer utility.

Benefits
Direct reading concentrations

Waterproof IP-67 rating

Large, backlit graphic display

Sample tube holder automatically adjusts for various diameters

On-screen instructions virtually eliminate reading manuals

Multiple languages (English, French, German, Spanish, Italian)

100+ test choices

Waterproof USB connection that can also power the instrument

Internal memory for 500 sample sets


User-selectable options for test units, sample numbers, dilutions factors, or additional tests
(1) 9500 Photometer
(1) Hard-sided carrying case
(1) USB waterproof cable
(8) Sample tubes
(1) Dilution tube
(10) Crush rods
(1) Cleaning brush
(1) Light cap
(1) Operations manual
Questions & Answers
What wavelengths does my 9500 Photometer operate at?
The 9500 Deluxe Photometer operates at 450, 500, 550, 570, 600, and 650 nm.
Is the YSI 9500 a laboratory photometer?
The YSI 9500 deluxe photometer can be used in the lab or in the field. It is waterproof with a IP67 rating and is designed to float if accidentally dropped in the water.
What is a blank tube? Why do I need to use it?
A blank tube is filled with the sample, but without reagents. This tube allows the instrument to compensate for any inherent color in the sample prior to the actual parameter test.
Can my photometer be updated?
Yes. The 9500 Photometer can be upgraded with new test calibrations using a PC. The photometer can be updated with a disk or via the YSI website (www.YSI.com). No special computer software is required.
How do you calibrate the YSI 9500 Photometer?
The 9500 Photometer is pre-programmed with calibrations for each test parameter, so there is no user-calibration necessary.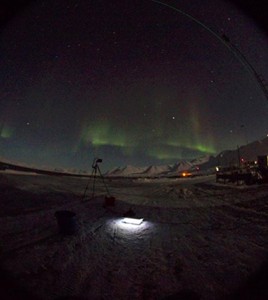 The Arctic is a fairly well-studied area, but the waters beneath it are something akin to the deep sea in that scientists have yet to tap the true potential they hold. One example of this is the little-known dependency that Arctic krill and phytoplankton have on light at the northern tip of the planet. 
 
From other investigations and past studies, scientists know that light is a trigger for the small marine organisms to move up and down in water columns everywhere, cueing them that it's safe to search for food or signaling that they should hide from predators. But the Arctic is a special place, and its light patterns don't conform with those found in other regions of our big blue marble.
Read More