Eos Arrow Lite GPS Receiver
The Eos Arrow Lite is a high-accuracy GPS receiver for smartphones, tablets, or notebook computers.
Features
100% Android, iOS, Windows compatible
60cm real-time accuracy using free SBAS
Supports Esri and other Mobile GIS software
Fondriest Exclusives
Free ground shipping
Expedited repair and warranty service
Lifetime technical support
Work Where Other Receivers Can't
The Arrow Lite was explicitly designed with GIS users in mind. It squeezes more accuracy from GPS SBAS corrections than any other receiver in the world. With its patented technology, use the Arrow Lite under trees, around buildings and in rugged terrain where other receivers will fail to deliver. No post-processing is required.

High-Accuracy GPS Receiver
The Arrow Lite is designed specifically to use with various mobile devices, including smartphones, tablets or notebook computers. The Arrow Lite incorporates rock-solid, wireless Bluetooth technology that works with Android, iOS or Windows devices, making it obsolete-proof.

Choice of Mobile GIS Software
The Arrow Lite feeds 1cm RTK accuracy to every app on Android or iOS device, including Google or Apple maps. Esri Collector/ArcPad/ArcMobile, Fulcrum, AmigoCloud, TerraFlex, MapItFast, GeoJot, iCMTGIS, the Arrow 200 works seamlessly with all of them and many more mapping apps.
Real-time, Worldwide Accuracy
The Arrow Lite uses the free GPS SBAS corrections available in each geographical region: WAAS in North America, EGNOS in Europe and North Africa, GAGAN in India, and MSAS in Japan to provide 60cm real-time accuracy. For South America, Australia and Central and South Africa, where free SBAS is not available, Eos has partnered with OmniSTAR to offer real-time, sub-meter accuracy.
(1) Arrow Lite receiver with Arrow Smart Battery Pack
(1) L1 GPS Precision Antenna
(2) Antenna Cables
(1) Soft hat for Antenna
(1) Nylon Carrying Case (belt clip & shoulder strap)
(1) 12V International Power Supply for Arrow Smart Battery
(1) USB Data Cable
Questions & Answers
What is the battery life of Arrow-Series receivers?
Typical battery life falls in the range of 9-16 hours.
Is an app required to view/collect data with an ArrowLite?
Yes, you can download free Eos apps to view collection points and 3rd party apps for mapping.
What is the battery life?
The battery life of the Arrow Lite is 15+ hours of operating time.
Is my Arrow Lite waterproof?
Yes, the Arrow Lite is IP67 waterproof rated.
What is the GNSS Frequency?
The Arrow Lite uses L1 GPS Frequency.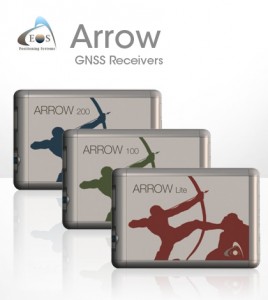 For pros working in mapping, surveying and other GIS fields, quick, precise data are a must. And the key to getting those data is getting the right receiver. 
 
As a result, many turn to high-accuracy, multi-constellation receivers like the Arrow series built by Eos Positioning Systems. The series includes the Eos Arrow Lite GPS Receiver, Eos Arrow 100 GNSS Receiver and Eos Arrow 200 L1/L2 GNSS Receiver. The receivers are popular for many reasons: They have the flexibility to use multiple satellite constellations, offer real-time data transmission capability and can connect to any device via Bluetooth. 
 
The Arrow receivers use the United States' GPS constellation of satellites, but they can just as easily link up with Russia's GLONASS, China's Beidou and Europe's Galileo.
Read More