Fondriest Environmental 125 mg/L Rhodamine WT Solution
The 125 mg/L Rhodamine WT Solution is designed for use with EXO and ProDSS Total Algae Sensors to eliminate the first dilution step when preparing calibration standards.
Features
Based on 2.5% Rhodamine WT dye
For dilution to 0.625 mg/L (CHL & TAL-PC) or 0.025 mg/L (TAL-PE)
Supplied in amber glass bottle for optimal preservation
Fondriest Exclusives
Expedited repair and warranty service
Lifetime technical support
Questions & Answers
Does this solution come with a certificate of analysis (COA)?
While the COA is not packed and shipped with the solution, a digital file is obtainable from AquaPhoenix: https://www.aquaphoenixsci.com/resources/certificate-of-analysis/
What is the shelf life for this solution?
The shelf life is approximately 1-year from the date of purchase, and there is an expiration date listed on the bottle.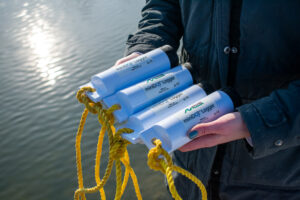 The PME miniDOT Logger is a compact data logger that measures dissolved oxygen (DO) and temperature down to 100 meters in depth. The unit can also endure low water temperatures and is durable underneath an ice layer, which is excellent for gathering essential winter water quality data that is lacking from using less robust equipment. The high depth rating and ability to withstand frigid temperatures make the PME a reliable device that is deployable in dramatically different environments, such as a monitoring well, an inland lake or an underwater cave. 
 
The logger itself features an optical DO sensor, temperature sensor, two AA lithium batteries and a micro SD memory card.
Read More