YSI EXO Total Algae Sensor
The YSI EXO total algae sensor is a digital smart sensor for helping monitor, mitigate, and manage the impacts of harmful algal blooms.
Features
Dual channel sensor
Measures and outputs both chlorophyll & blue-green algae
Options for ug/L and RFU outputs
Fondriest Exclusives
Expedited repair and warranty service
Lifetime technical support
The Total Algae (TAL) sensors are dual-channel fluorescence sensors. The "channels" are for chlorophyll and phycocyanin (TAL-PC), or chlorophyll and phycoerythrin (TAL-PE), which are measured in the water. Each sensor thus yields two data sets: for TAL-PC, one results from a blue-emitting LED that excites the chlorophyll a (chl) molecule and the second results from an orange excitation beam that excites the phycocyanin (PC) accessory pigment. The TAL-PE sensor is similar, also having the chlorophyll channel, but rather than an orange-emitting LED there is a slightly blue-shifted beam that excites phycoerythrin (PE).

The TAL sensors generate data in RFU or μg/L of pigment (chl, PC or PE) units, with RFU as the default. When using either RFU or μg/L, the sensor's response is highly linear: a reading of 50 of either unit represents twice as much fluorescence detected as a reading of 25, for example, if the temperature is constant.
Questions & Answers
Which Total Algae sensor do I need for freshwater?
The YSI EXO series sondes utilize TAL-PC (total algae – phycocyanin) sensors in freshwater systems which detects chlorophyll and phycocyanin.
Why not use just a chlorophyll sensor?
The total algae sensor reads chlorophyll and either phycocyanin or phycoetherin at the same time. Both chlorophyll and blue-green algae parameters have proved useful in monitoring for harmful algae blooms, so YSI decided to integrate both parameters onto the same probe.
How do you calibrate this sensor?
There are a few different options for calibrating this sensor which are outlined in this guide: https://www.fondriest.com/pdf/ysi_exo_ta_manual.pdf
How does the total algae sensor read both chlorophyll and phycocyanin algae?
The EXO total algae sensor has two excitation beams. The first one (470 nm) directly excites the chlorophyll a molecule while the second one (590 nm) excites the phycocyanin accessory pigment found in blue-green algae. The sensor generates and outputs two independent data sets.
What is a benefit of the total algae sensor?
The total algae sensor is two sensors in one, which gives you more space for other parameters. It is also less sensitive to common interferences, has a faster response time, and a deeper depth rating.
What is the depth rating for my EXO Total Algae Sensor?
The depth range is 250m for the EXO total algae sensor.
How long will my base solution last?
A base solution (the first dilution) will last a couple of months. The second dilution should only be used for a couple of days.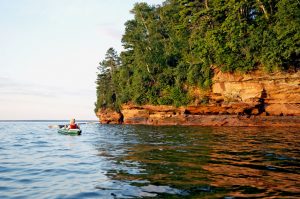 In 2012, for maybe the first time, Lake Superior got scummy. 
 
 Visitors to the Apostle Islands National Lakeshore reported algae washing up on shore around the park. 
 
 It was a marked shift for the park, made up of a portion of the Lake Superior lakeshore and nearby islands. The water surrounding the park is cold, clear and typically low in nutrients: a combination unlikely to result in algal blooms. 
 
 But, in 2012 and again in 2018 after violent storms, major algal blooms—ones observed over multiple days—washed ashore and clogged the beaches with unsightly, scummy algae. 
 
 Not the usual suspects 
 
 The algal blooms of Lake Superior are not the algal blooms of warmer, more nutrient-rich lakes like Lake Erie.
Read More