Hach sensION+ 5048 Portable Multi-parameter Electrode
Hach's sensION+ 5048 portable multi-parameter electrode for determination of pH, conductivity, ORP and temperature.
Features
Standard sized electrode protected against harsh field conditions
Low maintenance design for a variety of applications
Heavy-duty electrode handle design optimized for field calibration and storage
Stock
Drop Ships From

Manufacturer
Fondriest Exclusives
Free ground shipping
Expedited repair and warranty service
Lifetime technical support
The Hach sensION+ 5048 portable multi-parameter electrode determines pH, conductivity, ORP and temperature. It has a plastic body, non-refillable gel reference electrolyte and built-in temperature sensor. The electrode has a fixed 1 meter cable and MP8 connector dedicated for use with Hach sensION+ MM150 portable meters. The 5048 has a ceramic pin reference junction and glass (pH); platinum (conductivity & ORP); and Pt1000 (temperature) sensors. It is ideal for measurements in general aqueous applications.
The 5048's calibration and storage tubes screw directly onto the portable electrode's heavy-duty handle. This design is ideal for field calibration and transport as it provides a secure interface between the electrode and calibration/storage tube as well as reducing the risk of contamination in field conditions.
Dimensions (D x L):

12 mm x 85 mm (w/o handle)

Material Sensor Body:

Polycarbonate

Measuring range pH:

0 to 14 pH

Special Feature:

pH, Conductivity, ORP

Temperature Range:

0 to 80 °C

Temperature Sensor:

Pt 1000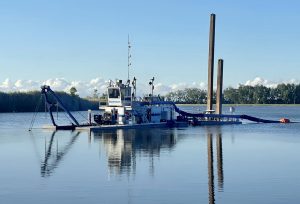 Though dredging is often painted in a negative light, dredging initiatives and projects are often conducted to improve environments, begin recovery periods for water beds contaminated with toxins, and reinvigorate ecological systems and habitats. Many of the technicians and engineers who plan and execute dredging projects are dedicated to balancing the economic benefits of dredging with protecting the environment. 
 
 Sevenson Environmental Services Inc. provides sediment remediation as one of many key services offered to help restore natural environments. Steven Shaw spent more than a decade working as an engineer on various dredging projects before finding his way to Sevenson eight years ago.
Read More