Eel Excitement: At Hudson River NERR, Environmental Monitoring Takes A Slippery Turn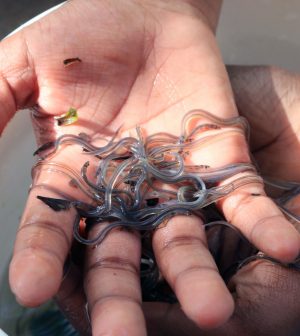 "I remember how I first became fascinated with eels," says Chris Bowser, Education Coordinator for the Hudson River National Estuarine Research Reserve (HRNERR) and Hudson River Estuary Program (HREP) of the New York State Department of Environmental Conservation, in partnership with Cornell University's NYS Water Resource Institute. "I was doing a talk on a ship called the Clearwater. There was a trawl net catch on the deck and I picked up one of the things in the catch. It was a piece of trash, a plastic toy truck with barnacles growing on it. I was speaking to the audience and they seemed really riveted! I was thinking, 'I must be giving a really good talk.' But then I glanced at the truck in my hand and realized that an eel was coming out of the little window! It must have been a foot long or so, bigger than I would have thought could have fit in that toy truck. The audience wasn't staring at me; they were staring at the eel! They were captivated. And so was I. I realized I wanted to learn a lot more about eels."
Eels are important food sources. "People eat them, of course, and they're also widely used as bait for striped bass. Many other species eat them too, as baby eels show up in the spring when many predators are hungry," Bowser explains. "Eels are special because they occupy positions in both the top of the food web, as adult eels are apex predators, and closer to the base of the ecosystem, as baby eels feed many species. They are at headwaters and in estuaries: they are at every habitat in our spider web of ecology," says Bowser.
Bowser has now been on an eleven-year journey as HRNERR's Education Coordinator, studying eels among many other duties. Before that, he was the education director for the non-profit Sloop Clearwater and a Peace Corps volunteer in Mauritania, West Africa.
At HRNERR, Bowser is mainly involved in the environmental monitoring of fish populations. "I especially look after migrating juvenile American eels in the estuary," he says. "My colleagues are deeply involved in monitoring a variety of factors in several large tidal wetlands that make up the Research Reserve. They are looking at the relative accretion or erosion of the marshes using sediment elevation tables. They also study water quality with a range of remote sensing and field work associated with the national System Wide Monitoring Protocols (SWMP). HRNERR and HREP are key partners with the Hudson River Environmental Conditions Observing System (HRECOS), a network of in-river real time data monitors that span the estuary from New York Harbor to the Capital region."
SWMP monitoring includes tracking water quality parameters using YSI 6600 data sondes. Water quality data has been taken since 1995 and includes depth, dissolved oxygen, temperature, conductivity, salinity, pH, turbidity and chlorophyll. Sondes are deployed at one station at the Norrie Point Environmental Center and four stations at the component site within Tivoli Bays.
Though lots of environmental monitoring goes on at HRNERR, Bowser is most closely involved with the eel project. "Each spring we set up special cone-shaped fyke nets in a dozen Hudson River tributaries to catch, count and release juvenile glass eels during their migration from the Atlantic Ocean up into the entire watershed," he says.
HRNERR also has a very healthy citizen science program, with about 750 people volunteering each year along 150 miles of the estuary. "Many volunteers come back year after year; others are students that are taking a class with exceptional field-oriented teachers. All volunteers are trained by our staff or our key partners. These partners, over 40 of them, include colleges, schools, non-profits, and county agencies. We could not do this work without them," Bowser mentions. Many high school and college students participate, as well as the wide range of adults that volunteer their time one or two days per week.
"We check the nets once each day during a spring season that lasts about two months. Every site is a little different. Some are sampled every day at the same time, while a few have to be sampled only at low tide. When dealing with this many sites and a dynamic estuary, flexibility, as well as standardized straightforward monitoring protocols, are crucial. It also helps that our net design is remarkably species-specific," says Bowser.
In his 12 years at HRNERR/HREP and 22 years on the Hudson as an educator, Bowser is most impressed by the growing number of people who are coming back to the river, as it once had an unsavory reputation.  Throughout the watershed, Bowser has found that people aren't only enjoying their waterways, they are expanding their personal stewardship and engagement. Kayakers map submerged vegetation beds, college students help amphibians reach vernal pool habitats, watershed groups plant trees and shrubs to anchor eroding stream banks and citizens continue to ask great questions about their drinking water sources.
"The dedication of people always impresses me," says Bowser. "We had an extraordinary privilege this year of hiring three seasonal educators who had been high school eel project volunteers before going on to college, having their own adventures and coming back to work with their home communities again. Another volunteer would come to the site and quietly watch and photograph the whole process. One day she surprised us with two professional comic books she had designed about our work."
Bowser believes that what makes HRNERR –along with partners at the Estuary Program, DEC, and Cornell— special is the range of expertise and projects they are conducting. Every day he has colleagues recovering water samples from an ISCO station (which he calls R2-D2), training a group of municipal leaders on sustainable shorelines, crawling through culverts to repair disconnected streams, mapping natural resources in the valley and educating students on how they can be better stewards.
Bowser believes that everyone should find a scientist, and ask her or him about their work. "Get outside and volunteer. Heck…just get outside. The Hudson touches farms, suburbs, cities…lots of people from different backgrounds. Everyone can enjoy the river. Everyone can help heal, and be healed by, our waterways," he says.
Top image: Volunteer with a handful of eels, Fall Kill Creek, Poughkeepsie NY. (Credit: Chris Bowser, NYSDEC)